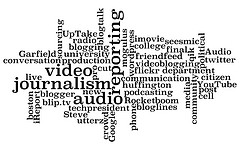 If you're frightened about the future of investigative journalism like I am, then you should check out the recommendations in a recent report created for the Federal Communications Commission by a staff-level working group. It envisions a much different media landscape in the future — one filled with individual journalists and non-profit media, which the Citizen Media Law Project have been supporting since its founding. If the report is correct, perhaps the beloved breed of resource-heavy, community-focused journalism will survive in the digital age after all — with a little help from Congressional policymakers with deeper pockets.
The report gives a lot of utopian recommendations — this is the real world, and many of the ideas won't be implemented no matter how progressive. But if nothing else, they show that information needs in our communities are important enough to our government that they asked whether they should re-examine policy to protect civic journalism. It's a step in the right direction, especially if you're a concerned journalist wondering what's going to happen next.
Steven Waldman, along with the Working Group on Information Needs of Communities, authored the report to the FCC in response to a 2009 Knight Commission finding that local communities are malnourished on local information. The report, released in June 2011, contains a list of recommendations to the commission, to Congress, to policymakers, and anyone else who cares about the media and thinks this disparity in local information is a bad omen for the future.
After first examining the current media landscape and then the policy and regulations that surround it, the report concludes that there is a shortage of "local, professional accountability reporting" which will (not surprisingly to any of us journalist folk) lead to corruption. The working group foresees a world where non-profit media, including web sites, state-based C-SPANs, citizens tweeting, and Low Power FM stations, need to play a bigger role in filling the information gap left behind by contracting newspapers and shrinking broadcast resources. The report also predicts more collaboration with non-profit media for needed content that has ceased to be – well, profitable – for today's for-profit media companies.
Now admittedly, the FCC commissioned this report, so there'd be something amiss if it didn't analyze the role of broadcasting. After all, the FCC was created by Congress to regulate licensing of the electromagnetic spectrum. Reading a staff report that said broadcast media would crumble in ten years would be like watching the FCC slit its own throat. But will analog media of any kind be part of the information and media landscape in twenty years? This author seriously doubts it, and probably wouldn't include Low Power FM stations in the non-profit media landscape of the 21st century and beyond. But I'll give the drafters of the report, who clearly did more homework than I, the benefit of a doubt.
The group recommends three goals to anyone who shapes communication policy: increase transparency, make better use of public resources, and remove obstacles to innovation in the media landscape.
There are many specific recommendations within the report to achieve these three goals, but here are just a few that highlight significant issues for contemporary media.
Innovation
Non-profit media serve a needed public service but face several obstacles, many relating to their tax status, that policymakers can resolve. For example, why can we create nonprofit magazines but not nonprofit newspapers? Will running a commentary against a piece of legislation count as lobbying? How can the nonprofit advertise without having to label the revenue as unrelated business income?
I can tell you from experience that the tax code can easily swallow even a skilled attorney, much less a lone ranger blogging in an unsteady field. Congress could do all of us a favor and either create a subsection of the tax code for nonprofit media OR clarify the tax code for nonprofit media so that pressing questions are clear. Also, the report suggests, wisely, that Congress should give dying newspapers, TV and radio a way to convert to nonprofit status. That way, media professionals with the most experience covering a particular community can stay open by conversion instead of leaving a void until a new media provider decides to fill the gap. It does little good to make way for non-profit media if we stomp out all the talent, passion and experience.
Transparency
Non-profit journalists have fewer resources in the pursuit of public affairs. Communities need better transparency of government activities so that civic journalists have better, cheaper access to government information.
Of course, the demand for more open government has been an ongoing debate for journalists. This report isn't saying anything that journalists of all sizes haven't known since the dawn of the printing press. But, seeing a commissioned report to the FCC saying affirmatively that we need more government transparency in the modern media landscape is an encouraging sign for all advocates of access to government information. 
The report also suggests that public affairs networks can provide a measure of accountability by giving the public (and civic journalists) better access to proceedings. Therefore, Congress should create incentives for states to create Public Affairs Networks (SPANs). Now admittedly CSPAN isn't the most riveting channel, but the report has a good point here. Besides, if any of you are Jon Stewart or Stephen Colbert fans, you owe a lot of your laughs to the creation of CSPAN. Imagine what could be done for local bloggers and broadcasters alike if this type of ongoing coverage were available at the community level.
Use of public resources
The federal government already spends a lot of money on advertising for its federal programs (e.g., promoting the $8,000 refundable tax credit for new homebuyers) but most of it is going to national entertainment media. There's really no reason that money can't be going to local news media instead. It could especially help non-profit media who may struggle to get enough revenue to stay open. They're all our tax dollars, after all – shouldn't they be used on something that benefits our communities in the richest way possible?
The report also recommends that if Congress eventually provides more funding for non-profit media through the Corporation for Public Broadcasting, it should be capped at 15%. The rest of the funding should come from organizations and individuals, to protect journalism organizations' independence. These suggestions may be the most forward thinking, especially after the recent debate over cutting funding for National Public Radio. However, if the working group is correct, certainly (hopefully) government funding at the local level will be considered at some point. It is, after all, local information we need, so  it's probably local non-profits that will rise to the calling. As for federal funding, we'll have to see whether the attitude of Congress changes over the next several years.
If you want to support non-profit media and believe the FCC and Congress need to heed the policy suggestions in this report, visit http://www.fcc.gov/info-needs-communities and scroll down to "Join the Discussion."
(Picture courtesy Flickr user stevegarfield, under CC BY-NC-SA 2.0 license)
Brittany Griffin Smith is a rising 3L at the University of Kentucky College of Law, a CMLP blogger, a journalist, and deadly ninja by night.