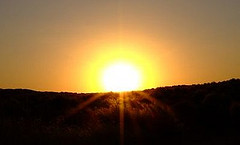 About two weeks ago I had the good fortune to attend a teleconference between Justice Breyer and Tunisian jurists. Justice Breyer agreed to help share his expertise at a conference hosted by NGO Almadanya on July 22 in the Amphitéâtre César in Yasmine-Hammamet, Tunisia to discuss the formation of their new post-totalitarian nation. I helped translate this event (which was conducted in French) for the Harvard Law School Office of Communications; that overview can be found here.
What I found most fascinating about the event was hearing the sorts of the questions the Tunisians posed to Justice Breyer. They only had about thirty minutes to ask questions after his opening comments, and that was further cut down by intermittent technical problems. Given the enormity of their task, actually helping to build the legal framework of a nation and not engaging in a purely academic exercise, it gave a glimpse into their greatest practical concerns.
The questions they asked ranged from asking whether a presidential executive structure could work for them, to whether they should create a more specific or a more general constitution, to what the single most important aspect of the US Constitution is. Justice Breyer responded largely in general terms, but this fit his philosophy that a constitution should be written using general principles. Additionally, he recommended that anything they do should reflect their national character.
This led me to wonder, sitting silently next to the Supreme Court Justice and staring into the screen displaying the erudite assembly in Tunisia, whether they should create some statement that can last into perpetuity about the value the Internet has in Tunisia. The United Nations and several countries have declared internet access a human rights issue , and the events of the Arab Spring of course owe a lot to social networks like Twitter and Facebook. While I would not suggest enshrining any specific service, the Internet itself helped ensure Tunisian freedom. Justice Breyer stated that a constitution is basically just words on paper that by themselves lack force, and what is necessary is free and open debate, education, and the desire to fight for freedom in the face of tyranny. Tunisia was aided in this fight by the world's most powerful communications tool -- a tool, as Justice Breyer noted to me after I told him about my work in the Berkman Center, that made his discussion with the Tunisian group possible.
I do not want to open a can of worms by suggesting that universal Internet access or free internet or the like should be enshrined in a nation's constitution. What I do want to say, however, is that in the reformation of a country that has forged its character in part from the Internet, the drafting of their constitution should reflect this experience in some way. Free speech on the Internet proved its power as a force for human rights in Tunisia, and represents a powerful part of their legacy. How to guarantee such a human right would have been a good question for a real constitutional scholar, like a Supreme Court Justice.
(Photo: "Tunisian Sahara Trek 2006," courtesy Flickr user John Spooner under CC BY-NC 2.0 license)
Tim Lamoureux is a 2L at Harvard Law School qui vous souhaite une bonne journée.  
Bookmark/Search this post with: