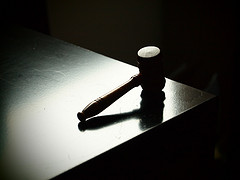 A pending law review article -- and two of the Supreme Court's recent major decisions --  provide vivid examples that judges (and Supreme Court justices in particular) often use "extrinsic evidence" (materials other than what the lawyers present to them in briefs, trial, or argument) to make judicial rulings. In recent decisions, this material is often found online.
In the Supreme Court's recent ruling mostly striking down Arizona's immigration enforcement law [2], Justice Antonin Scalia's dissent criticized the Obama administration's recent announcement [3] that it would defer deportations of young people under age 30 who immigrated to the U.S. illegally when they were under the age of 16, are in or have graduated from school or have served in the armed forces, and meet other criteria. This announcement was made ten days before the decision was released, and eight weeks after the case was argued.
And in discussing the new policy, Scalia cites a New York Times article on the administration's announcement, see Arizona v. United States [2], No. 11–182 (June 25, 2012) (Scalia, J., dissenting), at 20, a memorandum from Homeland Security Secretary Janet Napolitano, id., and the President's remarks on the policy. Id. at 21. For the latter two, the dissent cites the websites where these materials are available.
Meanwhile, Justice Ginsberg's opinion in the case upholding President Obama's health care law cites a Washington Post story from two months after the case was argued, see National Federation of Independent Business v. Sebelius [4], No. 11–393 (June 28, 2012) (Ginsberg, J., concurring in part and dissenting in part), at 7, as well as several government statistics found online.
So,  Supreme Court justices -- or, at least, justices Ginsburg and Scalia (or their clerks) -- consult and use the Internet to fashion decisions.
A forthcoming article in the Virginia Law Review [5] examines such "independent research" at the U.S. Supreme Court. And the author, Allison Orr Larsen [6], Assistant Professor of Law at The College of William and Mary School of Law, concludes that such research is more prevalent that usually thought. Examining Supreme Court decisions from 2000 through 2010, Larsen found that "56 percent of these cases contain at least one factual source discovered in house – meaning outside the record, not presented by the parties and even beyond the scope of the numerous amicus briefs filed." Larsen [5] at 19.
Larsen found that justices cited such sources in both majority and dissenting opinions, Larsen [5] at 20, and that such research is used to both support substantive legal rulings and also used rhetorically. Id. [5] at 25. As for the sources themselves, she found them equally divided between "legal" and "non-legal" sources. Id. [5] at 30.

Larsen goes on to discuss the problems with such independent judicial-fact finding, and the issues are similar to independent fact-finding by jurors: it is not subject to scrutiny by the attorneys on each side, and the advocates are not able to refute the information.
This also leads to the question, why can judges do their own research when jurors cannot? 
Larsen goes on to suggest two, racially different solutions to this issue: either bar judges from doing their own research, or formalize such research by allowing judges to solicit information from the parties and from other interested parties and experts. "[B]oth," she writes, "are superior to the outdated procedural void that currently exists," where there are no common rules or practices regarding the question. Id. [5] at 46.

One of Larsen's prescriptions may be right. The easy access to information that the internet and mobile computing provides to judges -- and jurors -- may require a re-thinking of the rules regarding evidence.
Eric P. Robinson is the deputy director of the Donald W. Reynolds Center for Courts and Media at the University of Nevada, Reno. He previously worked at the Media Law Resource Center [7] and the Reporters Committee for Freedom of the Press [8]. In addition to his posts here, Eric also blogs at www.bloglawonline.com [9].  
(Image of courtesy of Flickr user orangesparrow [10] under CC BY-NC-ND 2.0 [11] license.)