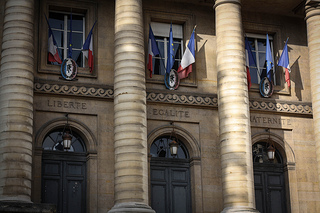 On November 6, the Paris Tribunal de Grande Instance (TGI) ordered Google and Google France to withdraw and stop displaying in their search engine results, for a period of five years, nine pictures of British citizen Max Mosley. By doing so, the TGI refused to consider Google as a mere Internet intermediary that provides hosting and/or caching functions. And although the TGI stopped just short from explicitly calling Google an editor, it required that Google build a filtering system to automatically block the pictures at stake and thus provide Mosley with obscurity for his actions.   (The decision is available here [2] in French, with a link to a Google Translate English version.)
Mosley's Initial Lawsuits
Mosley is a former President of the Fédération Internationale de l'Automobile, which manages the Formula One racing championship. He is also the son of Oswald Mosley, who founded the British Union of Fascists in the 1930's. 
In March 2008, the now defunct UK tabloid News of the World published images of Mosley taken surreptitiously during a sexual party, calling it a "sick Nazi orgy." The tabloid also posted on its site an edited version of the video from which the images had been extracted, but removed it voluntarily after receiving a letter from Mosley's solicitors.
Mosley sued News of the World in the UK for invasion of privacy, also claiming that the sexual party did not have a Nazi theme, and sought an injunction to restrain the tabloid from making the video available.  The High Court found that publishing these images breached Mosley's right to privacy.
Unsatisfied, Mosley took his case to the European Court of Human Rights (ECHR), claiming that UK law should have had a requirement that he be notified prior to the publication of the article, so he could have applied for an injunction to prevent its original publication. He lost his case [3] there.

Mosley also sued the tabloid in France, which has strict laws protecting privacy (including the privacy of one's image (droit à l'image)).  In November 2011, the criminal court of Paris found News of the World criminally responsible for having published pictures Mosley taken without consent while he was in a private place.
The Suit against Google
Even though both UK and French courts had ruled that these pictures infringed on Mosley's privacy, they were still regularly republished by various websites. Mosley requested that Google and Google France remove the images permanently from their search engine results; when they did not, he sued both entities in France seeking a permanent injunction against their publication.
No Breach of the European Convention of Human Rights 
Google argued that preventing the images from appearing in its search results permanently, as requested by Mosley, would not be a proportionate measure vis-à-vis its fundamental right to communicate information.
Under article 10 of the European Convention of Human Rights, an interference with freedom of expression is justified if it is prescribed by law, pursues a legitimate aim and is necessary in a democratic society.
The TGI noted that preventing the images from being published again, was a legitimate aim because it aimed at protecting Mosley's privacy. Also, it found that this measure was "necessary in a democratic society" as it was manifestly illegal to publish the photos, and because courts in two European States had found them to be illegal. The TGI also carefully noted that commenting about the images and referencing the comments about them was not forbidden, finding no breach of the Convention.
No Over-Filtering
Google also argued that the injunction demanded by Mosley would compel it to filter search results, a result it claimed was prohibited under the European Court of Justice's 2011 Sabam [4] case. In that case, the European Court of Justice held that a national court may not issue an injunction directing an ISP to put in place a filtering system in order to prevent intellectual property rights infringement.
The TGI distinguished the Sabam case by reasoning that it was about a rather complex filtering system, which would have required the ISP to constantly filter all traffic P2P, and identify illegal files to protect not only existing works, but also future works. In contrast, the TGI held that the nine Mosley images were "precisely identified and their illegality [has] been recognized by courts."
The TGI further found that ordering Google to prevent the images from being published again would result neither in substantial "over-filtering," nor in requiring measures that would be technically difficult or costly. Mosley provided as evidence the expert opinion of Professor Mayer-Schönberger who stated that building such a filtering system is simple and cheap, and that such a system can filter original and copied images.
The TGI did acknowledge that there might be some over-filtering, but dismissed the argument in a surprising way:
any alleged over-filtering risk of images which would be close to the offending images appears quite minor, considering the nature of the images at stake which represent scenes of sexual intimacy, the fact that another image of similar nature would be affected by the contested measure would not affect any rights that may prevail over Max Mosley's right of respect for his private life.
In other words, yes, there may be some over-filtering, but of similar images only, so no problem! The reasoning behind the TGI's ruling that there was no article 10 violation -- i.e., because the judicial authorities of two countries had made specific rulings as to specific images that the filtering was necessary in a democratic society -- has conveniently disappeared.
Google, An Editor?
Critically to his claims, Mosley argued that he was not asking Google to generally monitor content. Instead, he claimed that he wanted "Google's editorial choice [to comply] with court decisions which have held that the images which he asks to be de-indexed are infringing on his privacy."
Google, an editor? The 17th Chamber of the Paris TGI, which heard the case, is indeed the Chamber specialized in cases involving the press. Under French law, an editor is liable for the information it publishes because it makes choices about that information, adopting that information as their own speech. A finding that Google was acting as an editor would place it in the position of any other press outlet.
In contrast, French law presumes that for Internet intermediaries, information is merely bits and bytes. They are considered 'hosts' when simply storing content provided by third parties. Sometimes intermediaries temporarily store information provided by third parties in order to make transmission more efficient, a process known as 'caching.'
Intermediaries who do nothing more than act as hosts or engage in caching are protected by French law if they remove illegal content "expeditiously." Caching entities are provided with a safe harbor under L. 32-3-4 of the French telecommunication code, while hosts are provided a safe harbor by article 6-I-3° of France's Law No. 2004-575 [5] (June 21, 2004) on confidence in the digital economy (LCEN). These laws implement Articles 13 and 14, respectively, of the Directive 2000/31/EC of the European Parliament and of the Council (the "ECommerce Directive [6]").
But if a service provider goes beyond caching or the activities of a host, it may be liable for the content it stores. Therefore, it was crucial for Google to convince the TGI that it was acting in one of these capacities, and it argued that it had to be considered either one or the other with respect to its search engine results.

The TGI ruled, however, that Google was not merely a caching intermediary that automatically stocks image results. It pointed to the fact that images appear classified in the search results as low-resolution thumbnails each containing a hyperlink allowing users to go to the source site.
On the question of whether Google should be considered a "host," Mosley presented as evidence a white paper entitled First Amendment Protection for Search Engine Search Results [7], commissioned by Google and authored by Eugene Volokh and David M. Falk, which argued that Google's search engine results are protected by the First Amendment. 
The TGI cited the white paper extensively, focusing on the following language: 
[T]he computer algorithms that produce search engine output are written by humans… These human editorial judgments are responsible for producing the speech displayed by a search engine… Search engine results are thus the speech of the corporation, much as the speech created or selected by corporate news-paper employees is the speech of the newspaper corporation. [p. 11]
The TGI went on to state that
the fact remains that this editorial choice, even if [it is] not about the contents themselves, a point which has not been proved by the defendant, does not correspond to the neutral and passive role of a host, which, pursuant to article 6 of the LCEN and article 14 of the European Directive 2000/31, must have neither knowledge of, nor control over, the information transmitted or stored.
But the position taken by the TGI as to whether or not Google was acting as a host is ambiguous at best. Notwithstanding the analysis above, the TGI did not rule that Google was liable because it was an editor; rather, it held Google liable because it did not act expeditiously enough to remove the content when informed of its illicit character. The TGI found that Google had been on notice of the illegal nature of the photographs as of June 2009, when Mosley asked Google to take the images down. As such, the TGI avoided making a final decision as to whether the search giant was or was not a host.
Reaching Beyond France
Google also argued that the French court could not issue injunctions to a site other than Google.fr, as they do not target the French public. But the TGI noted that it was up to Google "to demonstrate that the listings on websites it operates which are aimed at a different audience than the French territory have no impact in France where these images were considered constitutive of a criminal offense."
Once again, the issue of the impact of a particular national law over the search results in another country, and its impact of freedom of speech, is raised. One remembers the Yahoo! Inc. v. LICRA case, over a French law criminalizing wearing or exhibiting public uniforms, insignia or emblems reminiscent of those worn or displayed by Nazis and other war criminals. Yahoo! had displayed Nazi paraphernalia in its Yahoo! auction site results, and was sued by two non-profit French organizations fighting discrimination. The Paris TGI found Yahoo!'s international activity to be under its jurisdiction, reasoning that, by allowing Nazi artifacts to be seen in France, "Yahoo Inc. committed a misdemeanor on French territory, an unintentional misdemeanor but which caused damage to the [anti-racist organizations] whose purpose is to fight all forms of Nazism trivialization."
Yahoo! then filed suit in the United States seeking a declaratory ruling that the French judgment could not enforced against it in the U.S. consistently with the First Amendment. That case was ultimately dismissed after an en banc panel of the Ninth Circuit held [8] that there had been no attempt to enforce the judgment outside of France, and that it was unlikely such an attempt would be made if Yahoo! implemented available geofiltering technology.
In the Mosley case, it is the protection of privacy which is at stake, a right generally more widely protected than the display of Nazi emblems. But the issue of whether a national court has the power to extend its jurisdiction over search results published in foreign countries is still relevant.
Conclusion
Google has been given two months to comply with the injunction, but has already announced it will appeal the TGI's judgment. Google will probably cite in its arguments three rulings of the French civil Supreme Court published on July 12, 2012, in which Google was a defendant and won.
In these cases, a Court of Appeals had ruled that Google and Google France had to delete from their search results images they knew infringed on the copyright of a third party, and also to take the necessary measures to prevent them from being re-posted. These images were precisely identified, as in the Mosley case. The Cour de Cassation reversed, holding that French law "cannot impose on a host a permanent and perpetual obligation to establish and update a filtering and blocking system… as only a targeted and temporary monitoring, can be requested by a judicial authority."
These rulings explicitly relied on treating Google as a host, not an editor.  Obviously, Google cannot afford to lose its "host" status under French law…
Marie-Andrée Weiss is a solo attorney admitted in New York, and her admission is pending in France. Her practice focuses on intellectual property, privacy, and social media law. She frequently writes on these topics and on European Union law. 
(Photo of Paris Tribunal de Grande Instance courtesy of Flickr user Clement Saunier [9] pursuant to a Creative Commons CC BY-NC-SA 2.0 [10] license.)