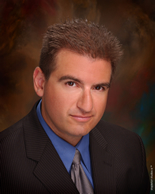 I'm excited to welcome Marc Randazza, a noted First Amendment lawyer, as a guest blogger. Regular readers of this blog will recognize Marc as the often irreverent author behind The Legal Satyricon, a blog focused on law, technology, and politics.  For his "day job," Marc practices with the law firm of Weston, Garrou, Walters & Mooney, where he focuses on First Amendment, intellectual property, Internet, and gaming law.
Marc has represented clients in a number of citizen media-related cases, including Veranda Partners v. Giles, Lexington Homes v. Siskind, and Internet Solutions v. Marshall.  He also served as counsel to Anthony Ciolli in the early stages of the AutoAdmit case. We posted recently about his big victory in the Giles case.
Marc holds a B.A. in Journalism, cum laude, with a concentration in First Amendment studies from the University of Massachusetts.  After gaining experience as a journalist, Randazza attended Georgetown University Law Center where he received his J.D.  To further round out his First Amendment bona fides, Marc earned a M.A. in Mass Communication from the University of Florida with a focus on Media and First Amendment Law.

Marc has written extensively on First Amendment and media law, negotiation theory, gaming law, and property law issues, and serves as an adjunct professor of law at Barry University School of Law, where he teaches classes in trademark, copyright, entertainment, and sports law.

Please join me in welcoming Marc!