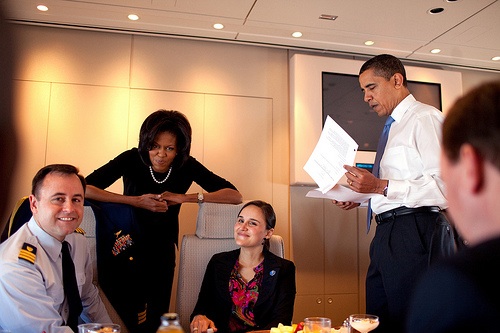 Wired/Epicenter reported yesterday that popular photo-sharing site Flickr, in collaboration with the Obama administration, has changed the licensing designation on photos in the Official White House Photostream to reflect that, as U.S. government works, they are in the public domain. The photos previously bore a Creative Commons Attribution license, but now are labeled "United States Government Work," with a link to § 105 of the Copyright Act, the provision relating to works created by the federal government:
Copyright protection under this title is not available for any work of the United States Government, but the United States Government is not precluded from receiving and holding copyrights transferred to it by assignment, bequest, or otherwise.
When the White House photos first appeared on Flickr in April, Fred Benenson of Creative Commons and others pointed out that the government couldn't grant a CC license on content to which it didn't own the copyright and hypothesized that the administration likely chose a CC Attribution license as the least restrictive option available to it because Flickr "doesn't allow their photographers to choose Public Domain as an option to release their work to the world." (As Hugh D'Andrade of EFF pointed out, Flickr does have a public domain option (of sorts) on the "Commons" portion of its site, which acts as a repository for certain public photography collections.  This "No known copyright restrictions" label, however, is only available to participating institutions like The Library of Congress and The Brooklyn Museum.)
It's great to see both Flickr and the administration responding quickly to the concerns of the public and legal commentators expressed in humble Internet discussions (As Wired/Epicenter puts it, "Someone must have been listening"). Too bad there's still no public domain designation available to ordinary users of Flickr, but progress is progress, and hopefully Flickr is still listening.
(Photos courtesy of the Official White House Photostream on Flickr.)