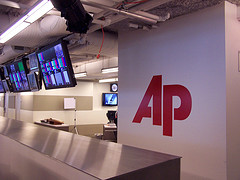 Is it possible to create a culture for licensing news?
This is the question at the heart of a new project begun by The Associated Press, announced last April by AP CEO Tom Curley. Called The News Licensing Group, the AP, with its membership, has created a separate company to explore how tagged content can not only be tracked but also monetized.
The News Licensing Group (NLG) is an outgrowth of the AP's News Registry project, which was announced in 2009 as a way not only to tag content but locate content thieves. That announcement attracted criticism that the AP was gearing up for a major offensive against aggregators, but that never panned out. As a new group, NLG is positioned a bit more broadly – it's about tagging and tracking, but it's also about creating the distribution economics for aggregators to obtain the content they want.
In short, it appears NLG is looking to embrace the new content distribution economics.
The new venture is headed by former ABC News Chief David Westin. Its new COO is Srinandan Kasi, formerly vice president and general counsel for The Associated Press.
Last week, Kasi addressed a group of lawyers and journalists at the Ohio State Bar Association in Columbus at their annual media law conference to explain what NLG is working on and to review the history of the news industry's business choices that have led to this moment.
Kasi is among the few news managers to point out the challenges and mistakes in business planning that news organizations experienced in the 1990s, as they rushed onto the Web. With a background in technology, law, and chemistry (his PhD is from the University of Houston), Kasi is part strategist, part scientist, part teacher, and part economist – an unusual if not unique background for a news executive looking for solutions to the industry's woes.
In the 1980s, Kasi said, content was "set in motion" with the first commercial database services, but without impact on the print business. Yet there were cautionary signs that even the government observed. Kasi said that a congressional report by the Office of Technology Assessment forecast that without a share in the distribution economics for news producers, there was a risk of losing the incentive to produce the kind of content traditionally produced by the news industry.
In the 1990s, Kasi explained that the audience was "set in motion" and "all the bets were on advertising" to sustain the new distribution model.
"The problem with that thinking was that everyone was thinking that," he said. Add to these distribution shifts a new set of regulations in the DMCA, and Kasi said a "watershed moment" was reached by the late '90s. Suddenly, he said, the content was flowing through very few distribution nodes: At that time, those nodes were Yahoo, AOL, and a few others.
In the last decade, Kasi explained that the "economics were set in motion." Now news providers must not only know how many eyeballs are on their sites but they must qualify those eyeballs with the kind of analytical insight advertisers are demanding. Advertisers will increasingly engage in a real-time bidding war for the precise kinds of eyeballs they want in real time – which means matching specific content and headlines to those advertisers across new boundaries. "You need to be able to announce yourself differently" to advertisers, Kasi said.
The News Licensing Group, with nearly 900 digital publications involved, is positioning itself as the tool for news providers to tag that kind of content for advertisers and to create a system that will make it easier for news producers to match content with what advertisers are looking for. In addition, of course, NLG is going to tag content and make it easier (and presumably well-priced) to license to aggregators. NLG embraces the aggregator, said Kasi. And NLG will serve them.
"You have to offer them an incentive," he said. "You lower the barriers of entry to serve them."
In short, you license. Listening to Kasi, I couldn't help but think that the goal is to change the culture from scraping to licensing, not unlike the late Steve Jobs did in introducing the 99-cent song to a culture that now largely accepts that fee for new music.
There are remaining questions, of course, about how it will all work and how far the licensing will extend (and, of course, how aggressive NLG will be about tracking violators). But listening to Kasi, there's a sense of a strategy shift away from an outdated news management approach. Aggregators are not the enemy, and indeed, are extremely valuable to the news industry's future, in Kasi's view.
NLG, now in an intensive research and development phase, is preparing to share its strategies and solutions with the news community. We'll likely hear more about all that toward the end of this year, according to Kasi.
And we'll get to see whether NLG can create a culture shift to license news.
Victoria Smith Ekstrand is an associate professor at Bowling Green State University, where she teaches media law, public relations, and graduate courses in legal theory and pedagogy. She also worked for The Associated Press for nine years, and before that worked for the Arbitron Company and for radio stations in upstate New York, New York City, and Long Island.
(Image of AP newsroom courtesy of Flickr user ztil301 licensed under a Creative Commons BY NC ND 2.0 license.)