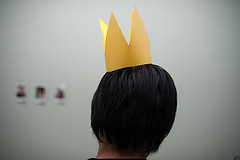 When hearing the expression "lèse majesté," images of the Queen of Hearts ordering heads to be chopped off ASAP may come to mind. Marie-Antoinette, the queen who was once a "majesté" in France, herself lost her head during the French Revolution. Surely, the crime of lèse majesté is now a thing of the past?
Lèse Majesté Law is Heavily Enforced in Thailand
Not quite, as some monarchies still prosecute this crime. Several of the European monarchies still have lèse-majesté laws, including Norway, where prosecuting the crime can only be carried out by the king or with his consent.
Thailand, a constitutional monarchy, has had a lèse-majesté law since 1908, the year of the enactment of its first criminal code. Although the political powers of the king (currently King Bhumibol Adulyadej, who has reigned since 1946) are limited, the monarchy is held in high regard.  A clause in the Thai constitution states that "The King shall be enthroned in a position of revered worship and shall not be violated. No person shall expose the King to any sort of accusation or action." Article 112 of the Thai Criminal Code states that "Whoever defames, insults or threatens the King, the Queen, the Heir-apparent or the Regent, shall be punished with imprisonment of three to 15 years." The code does not define, however, what constitutes a defamation or an insult.
Thailand has been enforcing its lèse majesté law quite aggressively lately. It seems that the law has been used by Thailand prosecutors to suppress political speech critical of the monarchy, particularly speech by partisans of former Prime Miniter Thakshin Shinawatra, who are known as the "Red Shirts." In September 2006, a military coup d'état deseated Prime Minister Thaksin Shinawatra and dissolved the Parliament. Since 2009, the Thailand public prosecutor has filed 12 lèse majesté suits against the Red Shirts, or persons suspected of supporting them.
For instance, Ampon Tangnoppakul was sentenced last November to 20 years in prison by a Thai Court, for having sent four text messages to a government official criticizing Thailand's royal family. He claimed that he never sent these messages, and that he does not even know how to send text messages. Mr. Tangnoppakul died last May while serving his sentence. 
He was not the only person incriminated of lèse-majesté in Thailand. Surachai Danwattananusorn, who has criticized the 2006 coup d'état, was sentenced in February 2012 to seven and a half years of prison for having insulted the monarchy.

Journalists and bloggers are also feeling the heat. The editor of a Thai political website was sentenced in 2012 to a eight-month suspended sentence because she had not removed comments believed to be insulting to the monarchy, an offense under section 15 of the Thai Computer Crime Act.
Impact of the Thai law on Foreigners
It has been argued that Facebook could be prosecuted in Thailand under its Computer Crime Act if one of its users posts derogatory comments about the Thai government or the Thai king.

Section 17(2) of the 2007 Thai Computer Crime Act indeed provides that a person committing an offense under the Act is publishable in Thailand, if the injured party is the Thai government or a Thai. Also, section 14(3) of the Act criminalizes imputing data in a system (posting on a blog is imputing data) which is the commission of the offense relating to national security according to the criminal code. Lèse majesté is criminalized by the criminal code.

Thai censorship is also felt abroad. Google revealed in its last Transparency Report that it received four requests from Thailand's Ministry of Information, Communication and Technology to remove 149 YouTube videos. These videos were allegedly insulting to the monarchy and thus violated Thailand's lèse-majesté law. Google stated that it had restricted 70 percent of these videos from view in Thailand in accordance with Thai law.

Oui, Lèse Majesté is Still a Crime in France
Lèse majesté does not necessarily refer solely to insulting a monarch. "Majestas" was defined by Ulpian, a Roman jurist, as "crimen illud quod adversus Populum Romanum vel adversus securitatem ejus committitur" – that is, the crime committed against the Roman people or against its security. "Majestas" referred to the Roman state as a whole, and this, as early as the Roman Republic, before Rome became an empire.
Interestingly, some republics criminalize lèse majesté. One of these is France. The French law on the freedom of the press, first enacted on July 29, 1881 (French Press Law), is still in force after many amendments, and now regulates all media, including blog postings. 

Its article 26 criminalizes offending the president of the republic by "speech, shouts, threats uttered in public places or during public meetings, or by writings, printed materials, drawings, engravings, paintings, emblems, images or any other medium of written words, spoken words, or images sold, distributed, or displayed in public places or public meetings or by any way of electronic communication to the public." It is a felony punishable by up to a 45,000 euro fine.
The law was used in 2008 by then-President Nicolas Sarkozy, in a case that stirred much emotion in France, Hervé Eon, a French citizen, was arrested in August 2008 as he was standing on the side of a road holding a placard card which read "casse toi pauv' con" ("get lost you a$$..."). Mr. Eon was quoting the insult uttered by Mr. Sarkozy himself at a disgruntled voter during his visit at the Paris agricultural fair a few months earlier, an exchange captured on a video which quickly became viral. Eon was tried for having offended the French president, under article 26 of the French Press Law. The criminal court found him guilty, and fined him a suspended sentence of 30 Euros. A court of appeals confirmed the judgment. Eon then announced his intention to file a complaint with the European Court of Human Rights in Strasbourg, but it does not seem he followed up on that intent.
[Ed. note (4/3/2013) -- It turns out that Eon did in fact file a complaint with the ECHR; see Marie-Andrée's coverage of the ECHR's ruling in the case here.]
Insulting Guests is Bad Manners, and also Carries a Prison Term if They Are Foreign Heads of State
One can regret that Eon did not file suit, as France abolished another article of the French Press Law, article 36, which criminalized insulting a foreign head of state, a foreign head of government, or the minister for foreign affairs of a foreign government, following a 2002 ruling by the European Court of Human Rights against France, Colombani and others against France. In that case, the director of publication and a journalist of Le Monde had been convicted by the Paris Court of Appeal for defamation of then-king of Morocco, Hassan II. The short article stated that the king's entourage was implicated by a confidential report on drug trafficking in Morocco. The Court of Appeal found that the journalists had not published these facts in good faith, and that the publication was "tainted with malicious intent."
The European Court of Human Rights noted (§56) that a politician "is certainly entitled to have his reputation protected, even when he is not acting in his private capacity, but the requirements of that protection have to be weighed against the interests of open discussion of political issues, since exceptions to freedom of expression must be interpreted narrowly."
However, the Court found that the conviction of the journalists by the French courts "incontestably amounted to an interference with the applicants' exercise of their right to freedom of expression" as guaranteed by article 10 of the Convention for the Protection of Human Rights and Fundamental Freedoms. The case was a victory for journalists and bloggers, as the offense was punishable at the time by one year of imprisonment or a 300,000 francs fine (more or less $60,000), quite a hefty sum.

Germany, also a signatory of the European Human Rights Convention, as is every member state of the European Union, has not taken stock of the Colombani case. Paragraph 103 of the German Federal Criminal Code still criminalizes insulting a foreign head of state, the representative of a foreign state, or the head of a diplomatic mission, § 103 StGB: 
Any person who offends , by reference to their position, a foreign head of state, a member of a foreign government, or the leader of a foreign diplomatic mission, acting in their official capacity, while being present within the Federal Republic of Germany or within a Federal Territory, will be punished by imprisonment up to three years or a fine. If the offence is defamation, the penalty will be imprisonment from three months to five years.
Are Changes Ahead?
No changes seem to be ahead in Thailand. In France, several French representatives in May 2012 sponsored a bill aiming at suppressing article 26 of the French Press Law. In the bill's explanatory memorandum, the representatives stated that article 26 was "akin to an incongruous relic of the old Regime lèse-majesté, repealed from the Criminal Code in 1830." The representatives argued that at the time of the enactment of the French Press Law, during the Third Republic, the president merely played the role of an arbitrator. He was not elected by direct universal suffrage, and was thus above partisan political debates. However, the French president has been elected by direct universal suffrage since 1962. Criminalizing offenses to such a very active participant in the democratic debate is thus not appropriate in a democracy, according to the sponsors of the bill. The bill was not enacted.
France recently changed majority. The Senate and the House are now held by a socialist majority, and François Hollande, a socialist, was elected president in May. It remains to be seen if a bill will again be presented to abolish article 26 of the French Press Law.
In the meantime, insulting the king of Thailand or the president of France on a blog still carries a risk of prosecution.  However, though France or say, Norway, may chose to enforce their laws if one of their own nationals is the author of a lèse majesté crime, it is very unlikely that they would ever ask a foreign content provider to remove content offensive to the head of state, or would prosecute a foreigner, as Thailand does. As the French say, it is best to wash ones' dirty laundry at home.
Marie-Andrée Weiss is a solo attorney admitted in New York, and her admission is pending in France. Her practice focuses on intellectual property, privacy, and social media law. She frequently writes on these topics and on European Union law. 
(Image courtesy of Flickr user kurichan+, licensed under CC BY-NC-ND 2.0 license)