The 2009 Presidential Inauguration promises to be a historic series of events, and millions of people will converge on Washington D.C. to observe and participate in the festivities.  Many attendees will want to document the events, whether for purposes of reporting on a blog or other website, or simply for purposes of creating a personal record of their own experiences.
During the Inauguration, heightened security measures will be in place across Washington, D.C., particularly in the areas where official events are taking place.  These security measures, as well as tickets, permits, and credentialing requirements, will affect where you can go, what you can bring with you, and what you can do to document the Inauguration.  Your location and what events are taking place there will influence what legal and other limitations you are subject to.  The following information will help you understand and comply with security measures and other requirements while documenting the Inauguration.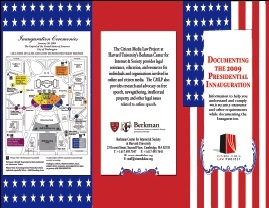 Click here for a one-page, printable summary of this guide in pamphlet form (print double-sided).
Some Basics
The 2009 Presidential Inauguration is actually a series of events held over four days.  The events start Sunday, January 18 with a "kick off" event at the Lincoln Memorial and conclude Wednesday, January 21 with a prayer service.  A list of official events is available on the Presidential Inaugural Committee website, and a map of Washington, D.C. displaying where the various inaugural events will take place is available on The Washington Post's website.
Most people consider the swearing-in ceremony to be the main event.  The swearing-in will take place on Tuesday, January 20, on the steps of the Capitol Building.  Limited seating is available directly in front of the Capitol Building steps, and tickets are required to watch the swearing-in from that location.  Information about tickets to this event can be found at the website of the Joint Congressional Committee on Inaugural Ceremonies.
The National Mall, which is located just west of the Capitol Building where the swearing-in will take place, will be open to the public during the ceremony, and large screens will be set up there to allow for viewing of the swearing-in.  Tickets are not required to watch the ceremony from the National Mall.  But, attendees will need to undergo security screenings and comply with various restrictions, discussed below.  

The Secret Service is the lead federal agency coordinating security for these events, but the D.C. Metropolitan Police, the U.S. Capitol Police and the National Park Service will all play active roles in maintaining security at the various inaugural events.  More information about the security coordination, and what it will mean for attendees, is available on the Secret Service Presidential Inaugural webpage.
Where Can You Go?
While documenting the Inauguration, you can go anywhere the general public can go, but certain areas will be off-limits to you without tickets or official press credentials.
Most inaugural events are open to the public, free of charge.  Publicly accessible areas will be clearly marked, and security personnel will be present if you have questions about where you can and cannot go.  Some events, like the ten official Inaugural Balls, will require a ticket to attend.  The Presidential Inaugural Committee handles ticketing for official events other than the swearing-in ceremony.  Please see their website for a schedule of events, and for more information about which events require tickets, and how tickets may be acquired.
"The Swearing-In": As noted above, tickets are needed to attend the January 20 swearing-in ceremony on the Capitol Building steps.  Members of Congress and the Presidential Inaugural Committee are distributing these tickets.  The most promising way to get a ticket is to contact your local member of Congress (keep in mind that the number of requests is likely to exceed the supply of tickets).  For more information about tickets to the swearing-in ceremony, please visit the website of the Joint Congressional Committee on Inaugural Ceremonies. This Inauguration map shows the locations of the swearing-in events at the Capitol Building and National Mall, and displays where ticketed and non-ticketed attendees may go.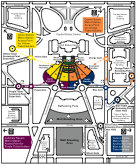 Ticketed attendees of the Capitol Building swearing-in event must enter the Capitol Grounds through the entry point designated for their particular ticket section, as indicated on the Inauguration map.  Security screening gates will open at 8:00 AM, music will begin at 9:00 AM, and the formal program will begin at 11:30 AM.  Guests who have not made it to the screening points by 11:30 AM may not be permitted to enter.  Security screening gates will also be in place at the National Mall swearing-in viewing event; it is likely that these gates will follow the same schedule.
Inaugural Parade:  You will need tickets to sit in the bleacher seats along the January 20 Inaugural Parade route, but you do not need tickets to watch the Parade from the sidewalk.  A map of the Parade route indicates which streets will be blocked off during the event.  The Presidential Inaugural Committee will be selling tickets for the seats.
Youth Concert: You also need tickets to attend the youth concert at the Verizon Center on January 19.  Tickets are free, and must be requested from the Presidential Inaugural Committee. 
All other official Inauguration events, apart from the Inaugural Balls, are open to the public free of charge.
At both ticketed and non-ticketed events, press areas will be demarcated for members of the media who have applied for and been granted official press credentials.  More information about press credentials is available at the website of the Joint Congressional Committee on Inaugural Ceremonies and the Inauguration Press Credentials page in this guide.  Note that the deadlines to apply for press credentials have already passed.
What Can You Bring?
You should have no problem if you bring small, handheld equipment and carry it in a small bag (but not a backpack).  At all inaugural events, attendees can bring still and video cameras.  While we found nothing written that suggested any size limitations on cameras, officials told us in telephone conversations that small, handheld equipment is the safest bet, given that security screeners have discretion to prohibit any item "that may pose a threat to the security of the event."  To the best of our knowledge, small microphones and other recording devices will be permitted as well.
Tripods, backpacks and large bags (exceeding 8"x6"x4"), including camera bags, are not permitted.  A non-exhaustive list of additional prohibited items is available at the website of the Joint Congressional Committee on Inaugural Ceremonies and the Secret Service Presidential Inaugural webpage.
Please note that members of the media with official press credentials will be permitted to use some equipment, such as unipods, that members of the general public are not allowed to bring.  See our Inauguration Press Credentials page for details.
What Can You Do to Document the Inauguration?
You can take still photographs, record video, and interview other Inauguration attendees at all inaugural events, provided that you comply with security regulations about what to bring (above) and don't create a disruption or otherwise interfere with security efforts.  There is one caveat regarding "commercial filming" on the National Mall, which we discuss below.
In the course of your filming and photographing, try not to get too close to other attendees with your equipment.  This may help to avoid altercations, and it's also polite.  In addition, before interviewing someone, get the person's permission.  If possible, get written permission or record verbal permission on video.  Explain to the individual what you intend to do with the video (such as uploading it to the Internet) and get their permission to use their name and likeness for that purpose. 
Commercial Filming on the National Mall

The January 18 "kick off" event and the January 20 free public viewing of the swearing-in ceremony will take place on the National Mall, located just west of the Capitol Building.  Because the National Mall is a national park, it is subject to the National Park Service's (NPS) permit requirements.  NPS requires a permit (and fee) for "commercial filming" on national park land.  It is unlikely, however, that taking photographs or recording video at these inaugural events qualify as "commercial filming," at least so long as you document the Inauguration for personal use or for purposes of reporting on the events.
Federal law, 16 U.S.C. § 460l-6d,  allows the NPS to require permits for "commercial filming" on national park land, including the National Mall.  An NPS agent we spoke with took a fairly aggressive view of what constitutes "commercial filming," suggesting that permits are necessary for filming and photography "whenever you are getting paid for your images."  A reasonable reading of the statute, however, does not support this understanding.
The statute states that a permit for still photography is not required unless it takes place in a location where members of the public are not generally allowed, where additional administrative costs are likely, or where the photographer uses models or props that are not already located at the site. 16 U.S.C. § 460l-6d(c).  None of these exceptions are likely to apply to photographers documenting the inaugural events at the National Mall. 
Videographers are more likely than still photographers to be subject to the permit requirement, but only slightly more so.  The statute does not define "commercial filming," but a Senate Report clarifies that "[p]ermits are not needed when filming for personal use, [or] for media and news events." S. Rep. No. 106-67, at 2 (1999).  This means that most people interested in taking video footage of the inaugural events on the Mall are not subject to the permit requirement. 
The only individuals who are likely to be subject to the NPS's permit requirement are those interested in filming an advertisement, feature film, or documentary.  If you fit into these categories, you can get more information about obtaining a permit at these National Park Service webpages (here, and here).  An NPS representative told us over the telephone that it could take a couple weeks to process a permit application.  However, the application forms indicate that applications should be submitted at least four days before filming begins.
What to Do In Case of Trouble?
The great majority of attendees interested in documenting the Inauguration will be content to observe and participate in the official events.  For these individuals, any unpleasant confrontation with the police or other security personnel is unlikely.  Others, however, may be interested in documenting demonstrations or other acts of dissent.  These activities bring with them a greater risk of confrontation with the police.
If you are interested in covering these types of activities, it is a good idea to avoid any appearance that you are participating in any protests or demonstrations, or engaging in disruptive behavior of any kind.  To that end, the Student Press Law Center recommends that you avoid wearing insignia, carrying signs, or joining in chants with protest participants.  You should also obey the orders of police and other security personnel.  If you believe that these officials are acting unlawfully, try to document the names and titles of those involved, and the contact information of witnesses to the incident.  If possible, photograph or videotape the misconduct.
The Student Press Law Center also recommends that journalists bring at least $50 cash and a cell phone programmed with phone numbers of emergency personnel and colleagues or friends you can call in case you encounter any problems while at the Inauguration events.  If you run into any trouble, being able to quickly contact outside help is important.  If you know other people attending the Inauguration, plan to check in with each other periodically. 
Several organizations maintain hotlines that you may be able to call in case of trouble:
The Reporters Committee for Freedom of the Press - A nonprofit organization dedicated to providing free legal assistance to journalists - (800) 336-4243.


Student Press Law Center - A group that advocates for student free press rights and provides free information, advice and legal assistance to students and educators.  SPLC has arranged for on-call assistance for any student journalist who is arrested or detained while covering the Inauguration - (703) 807-1904. 


American Civil Liberties Union - A nonprofit organization dedicated to protecting First Amendment rights to freedom of speech and freedom of the press.  The D.C. Chapter can be reached at (202) 457-0800.