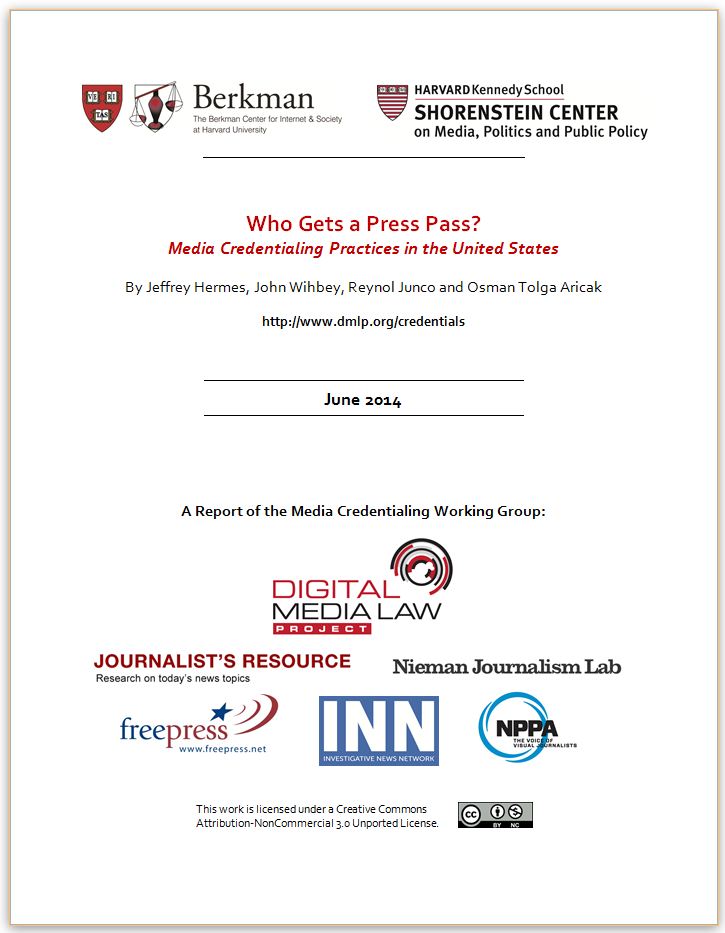 The Digital Media Law Project at Harvard University's Berkman Center for Internet & Society and the Journalist's Resource project at Harvard's Shorenstein Center on Media, Politics and Public Policy are pleased to present Who Gets a Press Pass? Media Credentialing Practices in the United States (link to SSRN).
Who Gets a Press Pass?
is a report of the Media Credentialing Working Group, including the
Digital Media Law Project
,
Journalist's Resource
,
Free Press
, the
National Press Photographers Association
, the
Investigative News Network
, and the
Nieman Journalism Lab
. These organizations are deeply concerned about the effect of credentialing systems on all members of the journalism world, including both employees of journalism organizations and those who work independently.
Executive Summary
The journalism market in the United States is more diverse than ever before, with a wide array of independent newsgatherers complementing the work of institutional news organizations. But regardless of where journalists practice, it is essential to their mission that they have access to information about the activities of government and private organizations. In many cases, laws that grant the public rights of access to government (such as open meetings laws, freedom of information acts, and constitutional rights of access to judicial proceedings) also guarantee that members of the media can obtain information they need.
But when journalists need access to government or private spaces beyond what is allowed to the public at large, they must obtain special permission. This frequently takes the form of a media credential, an official document or statement from an organization that the journalist is permitted to be somewhere or engage in particular activity, regardless of rules applicable to the rest of the public. The issuance of credentials is, however, far less uniformly regulated than other interactions between press and government. Diverse standards imposed by federal, state, local, and private organizations have led to confusion over who should receive media credentials in different contexts, and raised questions about the definitions of journalism used by these organizations.
This study, the first of its kind to perform a quantitative examination of media credentialing in the United States, surveys the experience of journalists throughout the country in their efforts to obtain media credentials from different types of credentialing organizations from 2008 to 2013. The survey results show that one out of every five respondents who applied for a credential was denied by a credentialing organization at least once. Moreover, certain categories of applicants are more likely to be denied than others: freelance journalists were significantly less likely to receive media credentials than employed journalists; photographers were more likely to be denied than non-photographers; and respondents who identified themselves as activists were more likely to be denied than those who did not.
Click Here to Read the Report (via SSRN)
***
Press coverage:
Nieman Journalism Lab: Who gets press passes? A new survey looks at how journalists are being credentialed (or not)
Columbia Journalism Review: Survey: One in five journalists has had a credential request denied
Groundswell: Fighting for Access: New Report on the State of Media Credentialing Practices in the United States
Huffington Post:  Denied: New Report Looks at Press Passes and Press Freedom Issues Across the United States
Talk Radio News Service: For Immediate Release: Tuesday, June 10
Investigative News Network: Who gets media credentials-and who doesn't?
Washington Times: Web journalists hard-pressed for news credentials
Student Press Law Center: Takeaway of study on credentialing practices could have implications on students
Society of Environmental Journalists: "Who Gets A Press Pass?" Report Explores Media Access
PBS MediaShift: Daily Must Reads, June 6, 2014
The Nation Institute/Investigative Fund:  Report Asks, 'Who Gets a Press Pass?'
***
The Media Credentialing Working Group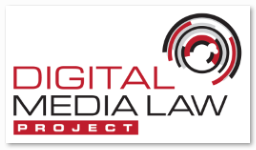 The Digital Media Law Project at Harvard University's Berkman Center for Internet and Society provides online legal resources for independent journalists and online media ventures. Through a variety of initiatives, the DMLP provides journalists with the legal information and assistance they need in a form that is useful.
Based at the Shorenstein Center at Harvard, the Journalist's Resource project examines news topics through a research lens. We focus on surfacing scholarly materials that may be relevant to other media practitioners, bloggers, educators, students and general readers.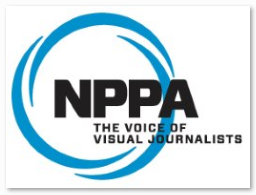 Founded in 1946, the National Press Photographers Association is dedicated to the advancement of visual journalism – its creation, practice, training, editing and distribution – in all news media and works to promote its role as a vital public service.
Free Press is building a powerful nationwide movement to change media and technology policies, promote the public interest and strengthen democracy. Free Press advocates for universal and affordable Internet access, diverse media ownership, vibrant public media and quality journalism.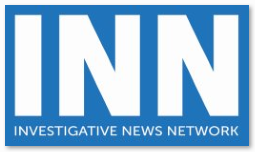 An association of more than 100 nonprofit newsrooms, the mission of the Investigative News Network is to help nonprofit news organizations produce and distribute stories with impact; to achieve cost efficiencies by pooling resources and services; and to develop new revenue streams that will help member organizations become sustainable, mission-driven, nonprofit businesses.



A project of the Nieman Foundation at Harvard University, the Nieman Journalism Lab is an attempt to help journalism figure out its future in an Internet age. We want to highlight attempts at innovation and figure out what makes them succeed or fail. We want to find good ideas for others to steal. We want to help reporters and editors adjust to their online labors; we want to help traditional news organizations find a way to survive; we want to help the new crop of startups that will complement - or supplant - them.