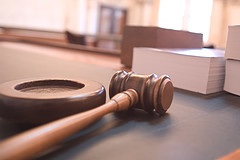 Over the past year, we've watched the courts struggle with Internet and social media use involving a variety of actors. We've seen jurors doing Internet research and using social media during trial, courtroom observers using portable recording devices, and supporters of a popular defendant bombarding a judge with emails. Recent developments from courts in New York and Ohio have brought a new courthouse player onto the scene: the judge.
New York Judge Searches for Rain Gear
In February, the Second Circuit Court of Appeals issued an opinion upholding Judge Denny Chin's reliance on Internet research in deciding whether a convicted bank robber had violated his terms of supervised release. In late 2008, Judge Chin, who sits in the United States District Court for the Southern District of New York, held a revocation hearing to determine whether Anthony Bari had violated the terms of his release by committing another bank robbery. Judge Chin found that Bari had committed the second robbery and sentenced him to thirty-six months of imprisonment.
At the revocation hearing, the government's evidence was primarily circumstantial.  For example, a bank employee recognized Bari's voice; the height, weight, and posture of the robber on security videos matched Bari's; and a car similar to Bari's car drove by the bank shortly after the robbery. According to Judge Chin, "the strongest piece of evidence" was a surveillance video showing the robber wearing a yellow rain hat because a similar hat was found in the garage of Bari's landlord. 
"I am convinced from looking at the surveillance video [from the bank] of September 9 that [the hat found in the garage] is the same type of hat as appears in the video," Judge Chin said in ruling that Bari had, indeed, violated his parole. "It may not be precisely the actual hat, but it is the same type of hat. It is just too much of a coincidence that the bank robber would be wearing the same hat we find in [his landlord's] garage."
With respect to this key piece of evidence, Chin noted that "[w]e did a Google search, and you can find yellow hats, yellow rain hats like this. But there are also lots of different rain hats, many different kinds of rain hats that one could buy." "[T]here are clearly lots of yellow hats out there," he added. "[O]ne can Goggle yellow rain hats and find lots of yellow rain hats out there."
Judges now routinely instruct jurors not to do independent research on the Internet about the cases on which they serve. Jurors who violate these instructions may be found in contempt, and several courts have declared mistrials after jurors were found to have done independent Internet research.
But judges are bound by different rules. In his appeal of Chin's ruling, Bari argued that Chin's Internet research violated Rule 605 of the Federal Rules of Evidence, which provides that "[t]he judge presiding at the trial may not testify in that trial as a witness."
The Second Circuit rejected the appeal, holding in a per curiam opinion that the Federal Rules of Evidence do not apply to hearings on the revocation of supervised release. U.S. v. Bari, No. 09-1074 (2d Cir. March 22, 2010). But the court added that
Although we conclude that the Federal Rules of Evidence do not apply with their normal force in supervised release revocation hearings, the Rules nevertheless provide some useful guidelines to ensure that any findings made by a district court at such hearings are based on "verified facts" and "accurate knowledge." 

Bari, slip op. at 6 (quoting Morrissey v. Brewer, 408 U.S. 471, 489 (1972)).
The appeals court concluded that Judge Chin's Internet research was permissible under Federal Rule of Evidence 201 in "some relaxed form." Rule 201 allows judges to take "judicial notice" of a fact this is "not subject to reasonable dispute in that it is either (1) generally known within the territorial jurisdiction of the trial court or (2) capable of accurate and ready determination by resort to sources whose accuracy cannot reasonably be questioned."
The court explained that, in the past, Judge Chin could have visited a local store to determine the variety of yellow rain hats offered for sale, but that doing an Internet search was now more cost-efficient and convenient.
As the cost of confirming one's intuition decreases, we would expect to see more judges doing just that. More generally, with so much information at our fingertips (almost literally), we all likely confirm hunches with a brief visit to our favorite search engine that in the not-so-distant past would have gone unconfirmed. We will not consider it reversible error when a judge, during the course of a revocation hearing where only a relaxed form of Rule 201 applies, states that he confirmed his intuition on a "matter[ ] of common knowledge."

Bari, slip op. at 9.
Ohio Judge Linked to Website Comments
Meanwhile, last week the Cleveland Plain Dealer revealed that a pseudonymous website user tied to the personal email account of Cuyahoga County Common Pleas Judge Shirley Strickland Saffold had posted more than 80 comments on the newspaper's website, including some in connection with coverage of cases pending before Judge Saffold.
Judge Saffold denied posting the comments left under the moniker "lawmiss," and her daughter claimed that she had made the posts. But, according to the Plain Dealer, an examination of the judge's court-issued computer showed that someone had used it at the exact dates and times when three of the "lawmiss" comments were posted.
The report led to a discussion of the propriety of a newspaper voluntarily unveiling the identity of an anonymous web commenter, and to a lawyer in a case before Judge Saffold asking for her recusal.
Different Rules for Judges?
Regardless of whether Judge Saffold actually posted the comments, a common issue is raised by both of these cases: should judges be held to the same standard of behavior as jurors, who are instructed not to use the Internet and other social media tools during trial, either to do research or to comment.
For the Second Circuit, the answer seems to be "no," at least when judges are confirming generally known facts:
Common sense leads one to suppose that there is not only one type of yellow rain hat for sale. Instead, one would imagine that there are many types of yellow rain hats, with one sufficient to suit nearly any taste in brim-width or shade. The District Court's independent Internet search served only to confirm this common sense supposition.
Bari, slip op. at 8.  (Also, keep in mind that the Second Circuit determined that relaxed rules apply to revocation hearings; its ruling wouldn't cover a judge's conduct in a bench trial.)
But some of the cases in which courts declared mistrials due to jurors' Internet research involved what could be considered common knowledge, at least within the medical realm.
In People v. Wadle, 77 P.3d 764 (Colo. App. 2003), aff'd, 97 P.3d 932 (Colo. 2004), a juror in a criminal trial had done research online about the drug Paxil. In Wardlaw v. State, No. 1478/07, 185 Md.App. 440 (Md. Ct. Special App. May 8, 2009), a juror used the Internet to independently research the definition of "oppositional defiant disorder," and whether lying is a part of the illness. And in Allan Jake Clark v. State of Maryland, No. No. 0953/08 (Md. Ct. Special App. Dec. 3, 2009) (unreported; listed here), a juror used Wikipedia articles on "livor mortis" and "algor mortis" that touched on an issue in the murder case—how the time and place of death may be determined by looking at how blood settles in a body. 
As for Judge Saffold, it is not clear whether she actually posted the "lawmiss" comments.  But what is clear is that a judge using a court-issued computer to post such comments would be in violation of judicial ethics. See, e.g., Ohio Code of Judicial Conduct, Rule 1.2 ("A judge shall act at all times in a manner that promotes public confidence in the independence, integrity, and impartiality of the judiciary, and shall avoid impropriety and the appearance of impropriety") and Rule 3.1 (judges shall not . . . "participate in activities that would appear to a reasonable person to undermine the judge's independence, integrity, or impartiality" or "make use of court premises, staff, stationery, equipment, or other resources, except for incidental use for extrajudicial activities permitted by law.")
Plainly, judges' behavior is controlled by different rules than jurors' behavior. Judges are subject to ethics codes and to rules of evidence, while jurors generally must follow instructions given to them by the judge.  The resulting different standards of conduct may be justified because of the very different functions judges and jurors play in the legal process. But, at least to the extent feasible, judges and legislators should devise consistent rules for Internet and social media use, lest it look like our legal system embraces a double standard. 
Photo "Courtroom One Gavel" courtesy of Flickr user Joe Gratz, licensed under CC BY-NC 2.0.