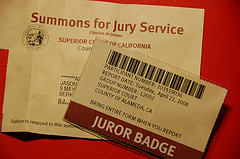 A survey of jurors from 15 trials
has found that jurors generally understand instructions not to use the Internet or social media to research or communicate about trials, but also that many jurors wish they could use technology to do some sort of research about the cases they sat on. Very few, however, reported that they had violated admonishments not to research or discuss the case with others prior to deliberations, and all of these involved pre-deliberation discussions with either fellow jurors or family members. None involved the internet or social media.
The study
was a prelimary examination conducted by the National Center for State Courts for the
Executive Session for State Court Leaders in the 21st Century
, a three-year series of meetings of court leaders from around the country sponsored by
Bureau of Justice Assistance,
the
State Justice Institute,
and the
National Center for State Courts
, and held at Harvard's Kennedy School of Government.