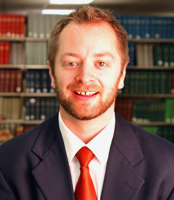 I am excited to welcome Bryce Newell as a guest blogger!
Bryce Newell is currently a Ph.D. student at the University of Washington's Information School and a Graduate Fellow of the Comparative Law & Society Studies (CLASS) Center. He is also a graduate of the University of California, Davis School of Law and is a member of the California State Bar (inactive). Bryce is engaged in conducting both doctrinal and socio-legal research that investigates the role of intellectual property, privacy, and information technology law and policy in society, both domestically and globally. Years as a photographer, videographer, and filmmaker have instilled in him a soft spot for photographer rights and an interest in citizen journalism. Prior to obtaining his J.D., Bryce worked in television, film, and video production as a producer, cinematographer, editor, and motion graphics artist. He is currently producing, directing, and editing a documentary film about humanitarian response to migrant deaths along the U.S.-Mexico border. In his spare time, he enjoys the occasional round of disc golf or a game of Ultimate Frisbee.
Please join me in welcoming Bryce to the CMLP blogroll!