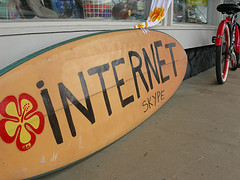 It is ridiculously easy to create an online forum.
Even just a few years ago, you had to have a fairly high level of technical savvy to put together such a thing - maybe some php or other coding skills, certainly a solid grip on html at the very least.   But now, thanks to the likes of Facebook, Google, and plenty of other online megacorporations, all it takes is a few mouse clicks.  And as a result, more government entities than ever are getting in on the action and creating forums -- in a technological sense -- for public debate.
But are they also creating public forums in a legal sense? In the physical world, when the government sets aside space as free for public use, it is not allowed to discriminate based on the viewpoints that members of the public might express in such spaces. But does that principle extend by analogy to virtual spaces hosted by government agencies?
That's the issue highlighted by a case filed just last week in federal court in Hawaii, in which Christopher Baker and Derek Scammon, as well as the Hawaii Defense Foundation (a pro-gun organization), are suing the Honolulu Police Department for constitutional violations after the HPD apparently removed the individual plaintiffs' comments from the Department's Facebook "fan" page. read more »
Bookmark/Search this post with: