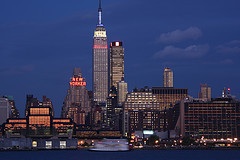 Now, I am not from New York.  Thus, I don't know much about Jim Dolan, the owner of Cablevision, Newsday, Madison Square Garden, and the New York Knicks.  But the local press offers a sense of the man.  The New York Daily News said that he is "a little bit wacky, lashing out indiscriminately behind the scenes, speaking nonsense whenever he talks at all."  Gawker, a New York blog, said that his "loathing for reporters, propensity for feuds, and general belligerence are legendary."
With that in mind, it's no particular surprise that he has sued New York blog Cityfile into retracting a story that it ran over the summer with the headline "Jim Dolan to Kill Christmas in July?"  Dolan's complaint (¶ 1) describes the Cityfile article as follows:
The article . . . defames and disparages the Radio City Christmas Spectacular, the iconic holiday season production owned and operated by MSG, by — among other things — falsely alleging that Plaintiffs plan to "kill Christmas" for millions of fans by discontinuing the Christmas Spectacular, "scrap[ping]" the world-famous Rockettes, and installing an entirely new show at Radio City Music Hall during the holiday season.  Although the article purports to cite "insiders" as the source for these inflammatory allegations, the article is, in truth, nothing more than a sensational headline based on unfounded speculation, including double-hearsay from a "former cast member" and other anonymous "sources" who, as Defendant knew or should have known, have no knowledge of Plaintiffs' plans for the production. 
I've read the story, which is attached to the complaint.  In the grand scheme of things, it's not a particularly noteworthy article (unless you're a Rockettes fan).  Sure, it'd be nice if it had better sources, but it's the same sort of speculative article that gets printed by every media outlet in the country — a typical "someone says X is thinking about doing Y" kind of story.  Nonetheless, Dolan sued the reporter, editor, and Cityfile itself for defamation in New York Supreme Court. 
I may just be a humble law student, but I'm pretty confident that any decent First Amendment lawyer could have gotten this lawsuit thrown out of court.  It is not at all clear that the article's speculation about Dolan's business plans was defamatory, and then there's the always-daunting task of proving actual malice. But we'll never know for sure because Cityfile settled and retracted the story.  Why?  A good guess is that Cityfile feared that protracted litigation with a high-powered opponent would put a severe financial strain on its limited resources.  Dolan might not have won, but his no-doubt substantial war chest would have made Cityfile's victory Pyrrhic at best.
And thus we come to the moral of the story: New York needs a better anti-SLAPP law. Under these circumstances, a robust anti-SLAPP law would have given Cityfile significantly more leverage because of the prospect of dismissing the case early and recovering attorneys' fees.  While New York has an anti-SLAPP law on the books, it's incredibly narrow. The law can only be invoked in cases involving claims for damages brought by a public applicant or permittee, which under N.Y. Civ. Rights Law §§ 76-a(1)(b) is defined to be:
any person who has applied for or obtained a permit, zoning change, lease, license, certificate or other entitlement for use or permission to act from any government body, or any person with an interest, connection or affiliation with such person that is materially related to such application or permission.
Unfortunately, this definition doesn't cover someone like Dolan or Cablevision.  Shuttering the Rockettes (or not) has nothing to do with permitting, so Cityfile was left defenseless as far as the anti-SLAPP law goes.  And that's just unacceptable.  Anti-SLAPP laws should protect reporting on and discussion of matters of legitimate public interest, including major cultural icons like the Rockettes.  New York needs to fix this.
It'd be one thing if anti-SLAPP laws protecting free speech were unknown in the US, but they're not.  California, Illinois, and Indiana all protect against SLAPP suits brought against an exercise of free speech.  Heck, California even allows the defendant in a SLAPP suit to counterclaim against the plaintiff for litigation costs and punitive damages.  For New York, the media capital of the world, to be trailing behind in protecting free speech is just embarrassing. 
So get on it, New York!  Tell the Jim Dolans of the world that they can't just bury the little guys in litigation.  And if you fix your anti-SLAPP statute, maybe that'll spur Beacon Hill into fixing ours here in Massachusetts.
(Arthur Bright is a third-year law student at the Boston University School of Law and a former CMLP Legal Intern. Before attending law school, Arthur was the online news editor at The Christian Science Monitor.)