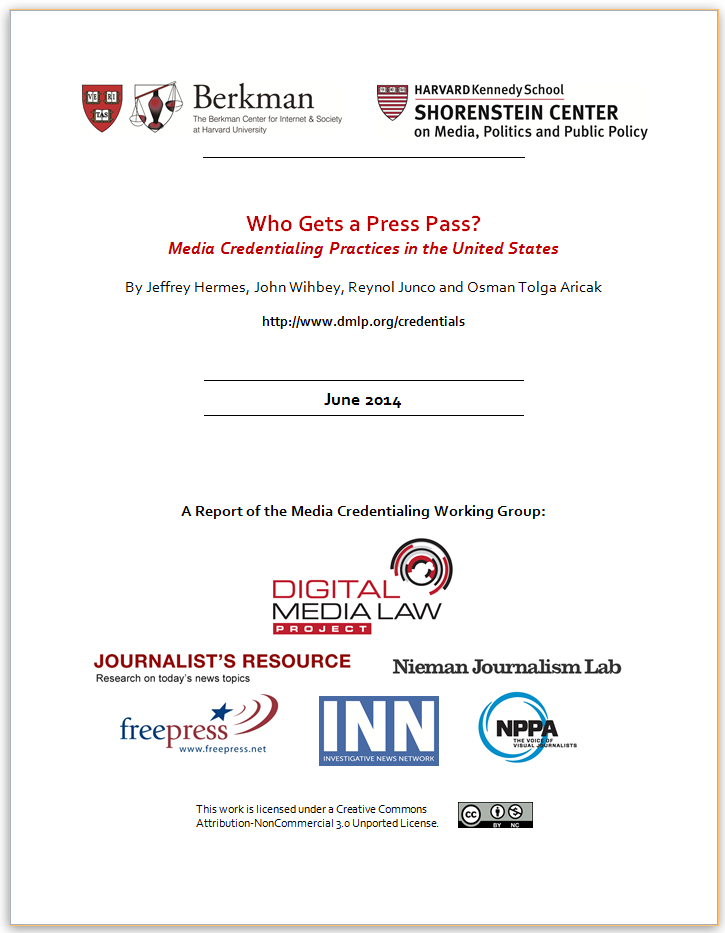 The Digital Media Law Project at Harvard University's Berkman Center for Internet & Society and the Journalist's Resource project at Harvard's Shorenstein Center on Media, Politics and Public Policy are pleased to release a new report: Who Gets a Press Pass? Media Credentialing Practices in the United States.
Media credentials have long played a critical role in newsgathering in the United States, allowing journalists to gain special access to places and events denied to the general public. There are, however, many inconsistencies among regulatory standards for the issuance of credentials, and many circumstances where the decision of whether and how to issue credentials is left up to individual agencies with no regulatory guidance at all. Moreover, upheaval in the journalism industry has introduced new actors in the journalism ecosystem, complicating decisions by government agencies and private gatekeepers about who should be entitled to special access.
Who Gets a Press Pass? presents a first-of-its-kind analysis of this complex environment, exploring media credentialing practices in the United States through a nationwide survey of more than 1,300 newsgatherers.
"Media credentials represent one of the most important interactions between journalists and those who control access to events and information," said Jeff Hermes, director of the Digital Media Law Project and lead author of the report. "This study finds common threads that run through decisions by various types of organizations, as a starting point to make sense out of the vast array of credentialing practices in the United States." read more »
Bookmark/Search this post with: