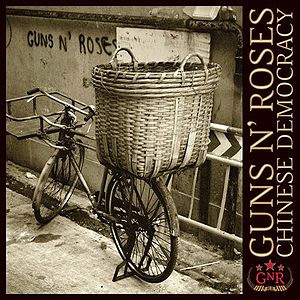 Kevin Cogill, a blogger on Antiquiet, which provides "uncensored music reviews and interviews," pled guilty yesterday in federal court in Los Angeles to one count of misdemeanor criminal copyright infringement after he allegedly posted nine songs from the then unreleased Guns N' Roses album "Chinese Democracy."
Cogill was charged under 17 U.S.C. § 506(a)(1)(C), which implements the copyright amendments included in the Family Entertainment and Copyright Act of 2005.  According to the criminal complaint filed against him, Cogill "knowingly and willfully distributed a copyrighted work being prepared for commercial distribution, namely nine previously unreleased songs by the band Guns n' Roses, by making the songs available on a computer network accessible to members of the public." 
Although the Copyright Act makes willful infringement of unpublished copyrighted material a felony punishable by up to three years in prison and up to $250,000 in fines, Cogill has pled guilty to only one misdemeanor count and isn't likely to face jail time based on the plea agreement he cut with prosecutors, which requires him to cooperate with authorities.  According to Wired.com:
"Mr. Cogill is cooperating with the government in our efforts to find the original source of the leak," federal prosecutor Craig Missakian said in a telephone interview. . . . "I got my hands on pre-release versions of Guns N' Roses songs — something my audience was heavily anticipating," Cogill, also known as "Skwerl," told U.S. Magistrate Paul Abrams. 
Cogill told Rolling Stone that he acquired the tracks from "an anonymous online source" and made them available through an embedded streaming player on his blog on June 18, 2008.  Cogill wrote at the time that "I always said that the more that Axl and Geffen jerked around trying to figure out how to release this finally finished album that we've all been waiting over 13 years for, the greater the chances would be that it would slip out of a pressing plant or office somewhere and wind up in the hands of some asshole with a blog.  So . . . Hey, I told you so." 
(You can follow further developments in the case by going to our legal threats database entry, United States v. Cogill.)