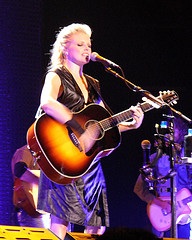 Yesterday, a federal district court in Arkansas dismissed Terry Hobbs' defamation lawsuit against Dixie Chicks singer Natalie Maines and her band mates over a letter published on the band's website and MySpace blog.  Here's a copy of the opinion.
The case is especially interesting because Maines' letter was a plea for support of the "West Memphis Three"—Damien Echols, Jesse Misskelley, and Jason Baldwin—three teenagers who were convicted of murdering three eight-year-old boys in the Robin Hood Hills area of Arkansas in 1993.  The story is chronicled in the excellent HBO documentaries, Paradise Lost: The Child Murders at Robin Hood Hills and Paradise Lost 2: Revelations, which cast doubt on the guilt of the three teenagers.
Hobbs' lawsuit alleged that Maines' letter (quoted in full in the opinion) falsely accused him of murdering the three eight year olds by describing DNA and other evidence marshaled in Damien Echols' petition for a writ of habeas corpus challenging his conviction.  According to Echols' defense team, this evidence suggests that Hobbs and a companion—rather than Echols, Misskelly, and Baldwin—were responsible for the murders, a contention that Hobbs vigorously denies and on which no court has ruled. 
It turns out that Maines did not read Echols' habeas petition or brief before posting her letter, but she relied on a press release issued by a West Memphis Three publicist that summarized the evidence cited in Echols' court papers.  The press release was approved Echols' defense attorneys.
In its decision granting summary judgment, the court easily found that Hobbs was a limited purpose public figure because he voluntarily injected himself into the public controversy surrounding the guilt or innocence of the three teenagers.  Anyone who's seen the HBO documentaries can confirm the accuracy of this finding—Hobbs aggressively used the films as mouthpieces for his bizarre, melodramatic, and sometimes downright scary views about the case.  Beyond that, he's given scores of interviews to the print media about the DNA evidence in question, appeared on talk shows including Anderson Cooper 360, and even sold the movie rights to his life story and to the life story of his deceased stepson Stevie Branch, one of the murdered children.  If ever there were a limited purpose public figure, Hobbs is it.
From there, New York Times v. Sullivan and its progeny governed the case.  The court determined that no reasonable jury could find that Maines and her co-defendants acted with actual malice—that is, that they "made the statements at issue with knowledge that the statements were false or with reckless disregard for whether they were false or not." 
The court was not overly concerned that Maines didn't read Echols' 188-page brief, which originally outlined the evidence in question. Instead, the court focused on Maines' word-for-word use of the press release that was approved by Echols' defense attorneys, implicitly finding that this reliance on the legal experts was justifiable. This is not a terribly surprising ruling, but it shows an admirable bit of pragmatism that helps to preserve the public's freedom to comment on highly contentious court proceedings without reading every last detail of often-voluminous filings. 
Kudos to Judge Miller of the United States District Court for the Eastern District of Arkansas for getting it right!
(Photo courtesy of LGB Tech on Flickr.  Licensed under a CC Attribution-Noncommercial No Derivatives license.)