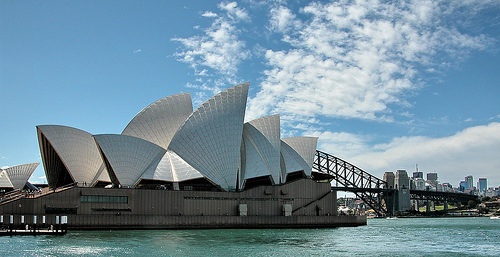 It's hard to be a prison guard in Australia, and not just because the entire country is a penal colony — zing!  Apparently you run the risk of being fired for griping about your job in a private Facebook group, even if other corrections officers are the only ones reading your complaint.  Such is the threat looming over those officers whom the Australian press has dubbed the Facebook Five. (Although apparently there are six of them.  Go figure.)
According to the Sydney Morning Herald, the corrections officers set up the Facebook group last October and used it as a place to vent about the New South Wales ("NSW") government's plans to privatize some of the state's prisons.  They also used the group to gripe about their boss, NSW Corrective Services Commissioner Ron Woodham.  According to the Associated Press, the Facebook group was private, so that only those invited to join could view posts.
Somehow Woodham caught whiff of what was being written in the group.  The Herald says that the six officers were informed that the Corrective Services Department was considering firing them based on the "bullying" and "harassment" that they were involved in on Facebook.  Naturally, the officers were less than pleased, and their union, the Public Service Association of New South Wales ("PSA"), has take the issue to the Industrial Relations Commission ("IRC") to halt the department's firing process and protect the officers' off-hours speech.  PSA senior industrial officer Stewart Little lays out the union's position to the Herald:
"What people do in their own time is their own business and shouldn't be subject to misconduct," Mr Little said.

"Talking on Facebook is the same as people talking in the pub letting off steam but the department is trying to say it's like going on ABC News at night.

"We say it's somewhere in between the two, but much closer to the lower end of the spectrum."
Now, just based on common sense, the officers would seem to have a reasonable case.  It's difficult to see that communication to a private group online, even if hosted by Facebook, constitutes a fireable offense. But I know very little about Australian law, so let's take a look at some of the talking heads cited for legal expertise by the various reports on the case.  Quoth Australia's Computerworld:
Lecturer from the School of Communication at Deakin University, Ross Monaghan, says anybody with a social networking profile needs to think about both the personal and professional ramifications of what they post online.

"If what you're putting online would embarrass you if it ends up on the front page of a newspaper tomorrow, don't do it," Monaghan said.

"If people are putting defamatory comments online I think people have to expect that the employer will abide by the law."
Well, yes.  But one wonders upon reading this whether Mr. Monaghan was being asked about the implications of posting to private spaces online.  It sounds like he's just giving the usual warning about public posts.  Not very helpful.  So what did the Associated Press's experts say?
Peter Black, a Queensland state University of Technology lecturer on Internet law, said that writing something unpleasant about someone online "is different from a conversation over a cup of coffee or a barbecue because there is always a record kept in the online environment which is usually searchable."

Lawyer Stuart Cole-Morgan said a conversation on Facebook or MySpace with colleagues or about colleagues could legally be considered work-related.

"I think the workplace would be considered to extend that far and certainly if we look at activity such as sexual harassment outside the workplace, that has been considered to impact on work," Cole-Morgan told Australian Broadcasting Corp. radio.
Seriously, this is the AP's legal summary?  I am unimpressed.  But let's look at Mr. Black's comment first: that Internet is different from a conversation because it's recorded and searchable.  Again, yes.  But this doesn't tell us much beyond the painfully obvious.  It certainly doesn't tell us anything about the legal issues involved in the case.  How does searchability and permanence impact a public employer's ability to discipline its employees for off-hours speech?
On to Mr. Cole-Morgan's comment that the workplace could extend to the locale of work-related conversations.  This is more helpful.  It suggests that the department will argue that the officers were still "in the workplace" during their Facebook venting sessions, and as such, could be disciplined as if at work.  
Still, this seems counterintuitive.  After all, if there's one thing that is universal to all employees, no matter what nation, culture, or planet they're from, it's getting together after work and bitching about bosses. Cole-Morgan can't really be insinuating that every boss-slamming utterance to a coworker that occurs in an Australian pub, picnic, or rec room is legally "within the workplace," can he?  
So from the press clippings, it's hard to assess how the Facebook Five (of whom there are Six) will fair in their case.  Were they in the US, they'd have a much easier time of things.  Pickering v. Board of Education, 391 U.S. 562 (1968), sets the standards for whether a public employee's speech authorizes the government to terminate his/her employment.  Under Pickering's test, one first examines whether the speech at issue is on a topic of public concern.  If it is, one then balances the employee's speech interest against that of the employer's interest in workplace efficiency.
Now, the prison system's privatization and wasted finances are almost undeniably of public concern. Thus, the officers would seem to easily meet the first prong of the test.  As far as the second prong goes, it's unclear that the officers' intra-group complaints affected their performance, but it's entirely clear that they have a strong interest in speaking out on issues of public concern.  And, in any event, it's hard to believe that the officers' venting online was any more problematic than if they did the same thing after hours in a pub.  So, based on the evidence the news reports provide, it ought to be a slam-dunk for the officers.
But that's all just a mental exercise anyway, because the prison officers' case is under Australian law.  Still, it might be useful to them to bring up some comparative international law, especially because Facebook's user base is international — one wouldn't need to change too many facts in this case to implicate choice of law concerns (say, if the Facebook group were not merely Australia-centric, but included corrections officers from around the globe who criticized the NSW plans).  Anyway, the IRC's hearing is set to resume next Wednesday; it'll be interesting to see how this turns out.
Update (3/25/2010): The Age reports that the prison officers won their case against the NSW Corrective Services Department.
(Arthur Bright is a third-year law student at the Boston University School of Law and a former CMLP Legal Intern. Before attending law school, Arthur was the online news editor at The Christian Science Monitor.)