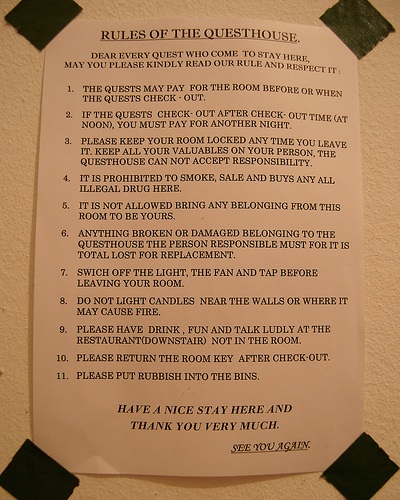 Paul Klocko got a surprise in the mail in April: a letter on official stationary from Weston, Wisconsin administrator Dean Zuleger, demanding that Klocko stop posting comments on the web criticizing him.  The letter also asked that Klocko "come out from behind the cloak" and meet Zuleger in person.
The letter was surprising because Klocko had posted his comments on the web site of the Wausau Daily Herald using a pseudonym, "juanmoore."  But when Zuleger contacted the newspaper, demanding that it identify his anonymous critic, the Daily Herald gave him Klocko's real e-mail address, which Klocko had provided when registering as a commenter on the site and which contained his true name. 
The newspaper apologized to Klocko over the summer, and its parent company, Gannett, clarified that its policy was to release information on anonymous commenters only when ordered by a court or when a comment threatens imminent harm.
This episode offers a lesson for all commenters, bloggers, and others who post material on the web: you're subject to the policies of the platform(s) you use to host your material, including whether the stated policies (you know, the terms of use/service and privacy policy that you are bound by, even if you never read them) are actually followed.  In other words, when platforms — Blogger, YouTube, Flickr, Facebook, Twitter, Wordpress, or whatever service hosts your material — invite you to make yourselves at home in their house, they get to set — and change — the rules.
"Juanmoore" isn't the only web poster who's found this out the hard way.  Rosemary Port threatened to sue Google after it revealed her identity -- in response to a court order -- as the anonymous blogger behind the "Skanks on New York" blog (deleted).  The court order was the result of a petition for discovery brought by model Liskula Cohen, who was named as a "skank" and a "ho" on the blog.  The anonymous blogger had asked the court not to reveal her identity, arguing in her brief that
With the increasing prevalence of email, chat rooms, social networking websites and web logs ("blogs"), the Internet has become essential to the free exchange of ideas and opinions, however absurd, insulting, profane or rhetorical.  
While this was arguably a close call, the court eventually ordered that the blogger's identity be revealed.
Cohen ultimately dropped the suit after the blogger was identified, and it is unclear whether Port actually filed her threatened suit against Google. (While such a suit might raise interesting legal issues on a different set of facts, Port's suit almost certainly would fail given that Google provided her ample notice and only turned over her identity after a court ordered it to do so.)
Web posters may also find their material removed under their platform's terms of service once a complaint is made that it violates someone's copyright rights.   In fact, the Digital Millennium Copyright Act, 17 U.S.C. § 512, provides a big incentive — protection from liability — to web platforms that have policies by which copyright holders may request removal of infringing material.  (Such requests are now common.)
Search engines have even removed sites entirely from their search results.  They have done so in response to DMCA requests (one example), but also according to their own policies (for example, removing links to a blog post with a curse word in the headline from Google News).
In another vein, there may be a more serious consequence of violating a site's terms of service: criminal prosecution.  (Although in the one prominent case where it was tried, the notorious Lori Drew / MySpace case, the conviction was reversed on post-trial motions.)
The bottom line is to carefully choose the platform you use to host your material, and to actually read, understand, and keep abreast of changes in the platform's terms of use/service, privacy policy, and other policies or conditions.  Feel free to make yourselves comfortable in your electronic home, but first be sure to know the rules of the house.
(Photo courtesy of Flickr user notacrime, licensed under a CC Attribution Share-Alike 2.o Generic license.)