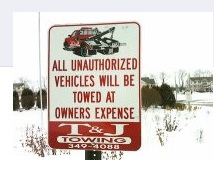 Last Monday, the New York Times ran an article about T&J Towing's lawsuit against a college student, Justin Kurtz, over a Facebook group page he started called "Kalamazoo Residents against T&J Towing." Several other news outlets and blogs have picked up the story, in no small part due to its David-and-Goliath appeal. 
Kurtz apparently created the Facebook page days after T&J towed his car from the parking lot of his apartment complex. On the page, Kurtz claims that T&J removed his parking permit and improperly towed his car. Other Facebook users have chimed in—the group now has over 13,800 members, many of whom have posted comments about their own negative experiences with the company.
Given the widespread coverage, one would think that it would be easy to get a hold of the complaint and other court documents, but I had no such luck. I searched all over the Internet for the documents, skimming dozens of pages to no avail.  I also tried Michigan court websites. No luck. I even emailed the reporters whobroke the story. No reply. Finally, one of Kurtz's lawyers was kind enough to send me copies of the complaint and answer (thanks to Dani Liblang!).
The complaint is a short read.  It does reveal, however, that the towing company believes that Kurtz libeled it by "falsely and publicly claimed that Plaintiffs have towed vehicles where no violation has occurred and which claims are untrue." Cmpt. ¶ 4.  And Sam points out a potentially interesting Section230 issue: T&J's complaint implies that Kurtz should be liable for the statements of others posting to his Facebook group, alleging that Kurtz "has absolutely no way of knowing whether or not all of the written submissions to his website have any truth or validity." Id.¶ 7.  This may be one of those rare instances where Section 230 protects a "user of an interactive computer service," as opposed to a "provider" of such a service (like Facebook itself).  See 47 U.S.C. § 230 (c)(1).  
We'll be monitoring this case in our database entry, T&J Towing v. Kurtz.
(Marshall Hogan is a rising second-year law student at Columbia Law School and a CMLP legal intern.)