As state and federal courts continue to struggle wit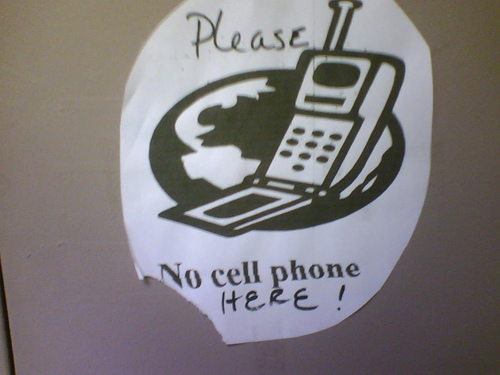 h the use of social media in courtrooms and courthouses, recently state judges in Colorado and Ohio took action against courtroom observers who used social media technology in court. 
Intimidation by Cell Phone
An Ohio judge imposed the more serious penalty against two trial attendees who separately pointed a Flip camera and a cell phone towards to the jury during trial testimony in a murder case.
On February 16, Dwayne Davenport went on trial for the fatal shooting of Michael Grissett in East Cleveland on January 16, 2009.  (Two other defendants in the case pleaded guilty, and are awaiting sentencing.) 
As reported by the Cleveland Plain Dealer, on the second day of trial jurors noticed that Andre Block (the defendant's friend) and Dwight Davenport (the defendant's cousin), who were seated in the back row of the courtroom observing the trial, were pointing the above-mentioned devices at the jury.  After jurors complained to Common Pleas Judge Nancy Margaret Russo, she ordered Block and Dwight Davenport arrested for contempt of court and declared a mistrial in the case.
At a hearing on the contempt citation held on February 25, Judge Russo told Block and Dwight Davenport that they were guilty of "intimidating and frightening my jury," and that their actions had made the jurors fearful of jury service, forcing the mistrial. 
Block, who used a Flip phone to record about eight minutes of the proceedings, claimed that he was taking video of the defendant, his friend Dwayne Davenport, to remember him in case Davenport was sent to prison. Judge Russo sentenced Block to 60 days in prison.
And Dwight Davenport claimed that he used his cell phone to send a text message to his girlfriend; no video or photographs of jurors were found on his phone.  But Judge Russo rejected this claim. "You were seen by more than one person pointing it at the jury," she said in sentencing Davenport to 30 days in jail. "You knew full well what you were doing."
After the incident, several signs were posted in the Cuyahoga County courthouse forbidding the use of recording devices and requiring cell phones to be shut off.  Ohio's court rules, which were written before the advent of social media technology, allow for broadcasting of court proceedings with the permission of the presiding judge.  See Ohio Ct. Superintendence Rule 12 (pdf at 80). Victims and witnesses have the right to object to being filmed, videotaped, recorded or photographed, Rule 12(C)(2), but there is no such provision for jurors.
There is a provision that "Media representatives shall not be permitted to transmit or record anything other than the court proceedings from the courtroom while the court is in session," Rule 12(C)(4), which arguably could prohibit text messaging, tweeting, and other social media dispatches from courtrooms.  Another Ohio court has banned most cell phones and similar devices from the courthouse.
This is not the first case in which pointing a cell phone has been held to constitute intimidation.  In Commonwealth v. Casiano, 876 N.E.2d 475 (Mass. Ct. App. 2007), a Massachusetts appeals court upheld a witness intimidation conviction against a defendant who pointed a cell phone at an undercover officer in a courtroom hallway while the officer was waiting to testify against the defendant.  "It is irrelevant whether any photographs were taken," Associate Justice R. Marc Kantrowitz wrote for the court, "as the police officer was made to believe that the defendant was taking pictures of him and could disseminate his likeness, an act intended to intimidate."  Casiano, at 479.
"No Cell Phone" Order Means Just That
Another recent incident arose during the Colorado murder case against Willie Clark, accused of killing Denver Broncos cornerback Darrent Williams.
Judge Christina Habas has imposed strict restrictions (pdf) on trial observers, including a prohibition on all communications from the courtroom, whether by blogging, text messaging, or other means, and a ban on cameras and cell phones from an entire section of the courthouse.
Despite these restrictions, numerous signs in the courthouse summarizing the rules, security checkpoints at both the courthouse and courtroom doors, and an announcement of the cell phone ban at the start of proceedings, Robert Forto—who was covering the case for his blog—had his iPhone with him in the courtroom.  His daughter called him, then his wife sent him a text message, and then his daughter left a voicemail.  Forto texted his daughter, saying "I can't talk right now."
A sheriff's deputy saw Forto send the text message and removed Forto from the courtroom and took his cell phone. (Forto's version of events is here.)
After about an hour, during a recess in the trial, Forto was called before Judge Habas, who according to KMGH-TV explained: "What you did was a contempt (of court). It was a direct violation of my order, even if it was well intentioned."  Under the terms of the order, Habas banned Forto from the courtroom, but permitted him to watch the trial in the overflow room.
A Challenge for the Courts
I've written before about the issues surrounding the use of social media in courts, by both trial participants and observers. 
The fundamental problem is that many courts are trying to apply their archaic rules regarding use of still and motion cameras to record and transmit court proceedings to new technologies such as text messaging, tweeting, blogging, etc.  Some courts have acted to update some of their policies to account for new technologies, and the Conference of Court Public Information Officers (CCPIO) is currently conducting an examination of the effects of digital media on the courts.
Until the rules are updated, questions are sure to persist.
(Photo "No cell phone HERE" courtesy of Flickr user myyearofnewthings, licensed under an Attribution-Noncommercial-No Derivative Works 2.0 Generic license.)