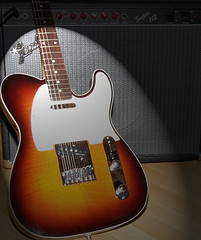 The Federal Trade Commission has announced the first monetary penalty under its "Guides Concerning the Use of Endorsements and Testimonials in Advertising": a $250,000 settlement with a company that sells guitar lessons on DVDs.
The FTC guides require disclosure of compensated endorsements in media where such compensation is not obvious (in the view of the FTC), such as on blogs and other social media.
In response to criticism, shortly after issuing the rules the Commission clarified that "If law enforcement becomes necessary, our focus will be advertisers, not endorsers – just as it's always been."
In the months since, the FTC has reached non-monetary settlements with clothing retailer Loft and public relations firm Reverb Communications.  Both companies agreed to stop their practices that attracted the FTC's attention, and not to repeat it.
The latest settlement, with Legacy Learning Systems, Inc. and owner Lester Gabriel Smith, is the first to include a monetary payment.  (Since it's a settlement, the payment is technically not a fine.) The company will also be required to submit monthly reports to the agency ensuring compliance by its top 50 revenue-generating affiliate marketers, and a random sampling of another 50 of their affiliate marketers.
According to the FTC's complaint, Legacy Learning Systems and Smith "represented, directly or indirectly, expressly or by implication, that reviews for Legacy's instructional videos represented endorsements from persons who had used or reviewed those instructional videos. Respondents failed to disclose, or disclose adequately, that the endorser receives financial compensation from the sale of Legacy's products."
"Whether they advertise directly or through affiliates, companies have an obligation to ensure that the advertising for their products is not deceptive," David Vladeck, director of the FTC's Bureau of Consumer Protection, was quoted as saying in the agency's announcement of the settlement. "Advertisers using affiliate marketers to promote their products would be wise to put in place a reasonable monitoring program to verify that those affiliates follow the principles of truth in advertising."
The Commission voted unanimously to approve the settlement, which is now subject to public comment before becoming final.
Eric P. Robinson is the deputy director of the Donald W. Reynolds Center for Courts and Media at the University of Nevada, Reno. He previously worked at the Media Law Resource Center and the Reporters Committee for Freedom of the Press.  In addition to his posts here, Eric also blogs at www.bloglawonline.com.
(Image courtesy of Flickr user SPW/ licensed under a Creative Commons license.)