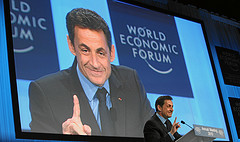 A French court last month stomped on what we in the United States consider a "basic, vital, and well-established liberty" – the right to record and publish the public activity of police.
It is the latest attempt by the country to regulate the speech of its citizens online, prevent access to information deemed harmful to state interests, and create, in the words of President Nicolas Sarkozy, a "civilized" Internet. This particular decision is especially concerning given that it comes just two years after a scathing report by Amnesty International on the country's ineffective methods of investigating police misconduct.
According to the Jurist, the Tribunal de Grande Instance de Paris, a civil trial court, ordered all French ISPs on Oct. 14 to block access to Copwatch Nord Paris I-D-F, a website that allows citizens to post videos of alleged police misconduct. The police union, Alliance Police Nationale, applauded the decision because it believed the site incited violence against officers. Said the union's secretary general, the "judges have analyzed the situation perfectly — this site being a threat to the integrity of the police — and made the right decision."
From a police accountability perspective, the decision leaves those in France without a much needed resource. A 2009 report by Amnesty International found that "allegations of unlawful killings, beatings, racial abuse and excessive use of force by France's police officers are rarely investigated effectively." If police will not effectively investigate their own misconduct, the task of exposing that misconduct and calling for accountability falls upon the public. Copwatch is a tool to help citizens achieve that end. What the police union doesn't seem willing to acknowledge is this: Officers either have integrity or they don't. Reporting misconduct online only shows a lack of integrity; it does not threaten what isn't there to begin with.
For those in the United States, this watchdog role is protected by the First Amendment. It underlies the recent opinion of the U.S. Court of Appeals for the First Circuit in Glik v. Cunniffe. Said that court, "Gathering information about government officials in a form that can readily be disseminated to others serves a cardinal First Amendment interest in protecting and promoting 'the free discussion of governmental affairs.'" As evidence of this discussion's importance, see these U.S.-based police accountability sites. While you do, remember that viewing such websites is a freedom now being whittled away in France.
In fact, France in recent years has increasingly regulated Internet use. The court-ordered blocking of Copwatch is emblematic of how the country manages online speech. During the e-G8 Forum last spring, President Sarkozy preached about a "civilized" Internet to the dozens of attending tech pioneers and online business executives. Such civility apparently starts with government involvement.
"Now that the Internet is an integral part of most people's lives, it would be contradictory to exclude governments," Sarkozy said during the forum. "Nobody should forget that these governments are the only legitimate representatives of the will of the people in our democracies. To forget this is to risk democratic chaos and hence anarchy."
Nate Anderson of Ars Technica translated:
It took Sarkozy only minutes to go from extolling the "third globalization" brought about by Internet companies — after the Age of Exploration and the Industrial Revolution — to delivering a parental lecture about "responsibility"... In Sarkozy's view, the dominant need right now is for control over this amazing, but rambunctious, resource we call the Internet.
Here's a brief summary of France's recent forays into Internet regulation and censorship.

This need to control online activity helped convince Reporters Without Borders to place France on its "Countries Under Surveillance" list in 2010. That year, according to the group, proved to be a "challenging year for online journalists and their sources" within the country:
With the implementation in France of the "three-strikes" legislation and of a law providing for the administrative filtering of the web and the defense of a "civilised" Internet, the impact of recent legislation and government-issued statements about the free flow of online information are raising serious concerns.
All of which leads to the most recent development in France's contentious relationship with the web — the blocking of Copwatch. Said Jérémie Zimmermann, a spokesman for La Quadrature du Net, a Paris-based organization that campaigns against restrictions on the Internet: "This court order illustrates an obvious will by the French government to control and censor citizens' new online public sphere." It's a desire that does not appear to be waning.
Justin graduated from Suffolk University Law School in 2011. You can contact him through his website, JustinSilverman.com, and follow him on Twitter at @MediaLawMatters. 
(Image of Nicolas Sarkozy courtesy of Flickr user World Economic Forum licensed under a Creative Commons BY SA 2.0 license.)