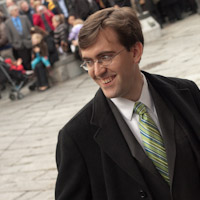 I'm excited to welcome Joel Sage as a guest blogger. 
Joel is a Massachusetts attorney and recent graduate of the Boston University School of Law with a deep interest in intellectual property issues.  He has served as a research assistant to noted copyright scholar Wendy Gordon and to syndicated legal analyst and Massachusetts lawyer Neil Chayet of CBS Radio's "Looking at the Law".  Joel was also the executive editor of the BU Journal of Science and Technology Law, which published his note Revenue Streams and Safe Harbors: How Water Law Suggests a Solution to Copyright's Orphan Works Problem.
Joel earned his undergraduate degree from Wheaton College in Illinois.  In addition to his posts here, Joel also writes for his own commentary blog, Legally Sociable, as well as taking photos for his self-titled photography blog.
Please join me in welcoming Joel!