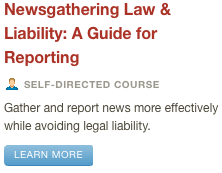 I'm excited to announce the latest installment in a series of legal modules we are publishing in conjunction with Poynter's News University.  The free course, entitled Newsgathering Law & Liability: A Guide for Reporting, is designed for reporters, citizen journalists and anyone who wants to know more about the laws that relate to gathering content, interviewing sources and handling documents.  It's chock full of interactive exercises and quizzes and anyone can enroll at the NewsU site and take the course at their own pace. 
I co-authored the module with Geanne Rosenberg, Chair of the Department of Journalism and the Writing Professions at the City University of New York's Baruch College.  This is our second course module at NewsU.  The first, entitled Online Media Law: The Basics for Bloggers and Other Publishers, went live in 2008 and -- shockingly -- is NewsU's most popular legal course.  Hopefully we will catch some of that magic with this one.
Funding for the course was provided by the Harnisch Foundation and Cutts Foundation.