"The truth is incontrovertible, malice may attack it, ignorance may deride it, but in the end; there it is." – Winston Churchill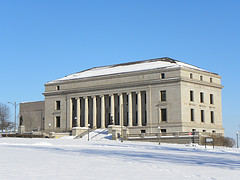 Until last week, a Minnesota blogger named John Hoff could have been forgiven for spurning the wisdom of Mr. Churchill, having been slapped with a $60,000 jury verdict for posting the truth (or "not false" facts) about a local man that may have cost him his job. But a state appellate court has found that Hoff will not have to pay a dime in damages since his statements and collateral conduct were protected by the First Amendment.    
Jerry Moore, a former employee of the University of Minnesota who was hired to study foreclosures, brought this suit after Hoff, a.k.a. "Johnny Northside," accused him in a 2009 blog post of being involved in a "high-profile fraudulent mortgage" and being "fired from [a previous position] for misconduct, (fistfight, cough cough)." There was also testimony in the underlying trial that Hoff asked an acquaintance named Donald Allen to get Moore terminated from his position. University officials did send a letter to Moore the day after Allen forwarded them Hoff's cutting blog post, indicating that Moore's "services would no longer be needed," according to the Minnesota appellate court decision. Allen, who was also sued by Moore, settled before trial and later testified against Hoff, making claims that Hoff denied.
Moore's lawsuit included claims for defamation, tortious interference with his employment contract or prospective employment advantage, and aiding and abetting. In March 2011, after a three-day trial, a jury decided that Hoff's allegedly defamatory statement was "not false," and thus not actionable. Yet, in the same breath, the jury found for Moore on his interference claim. It awarded him $60,000 in damages: $35,000 for lost wages plus $25,000 for emotional distress. Following this verdict, Hoff moved the lower court for a judgment as a matter of law ("JMOL") or a new trial on the basis that the verdict was contrary to established law. The district court denied Hoff's motion and directed entry of judgment in the Moore's favor. (For court documents and more detail on the proceedings in the case, see the CMLP threat entry here.)
But in a unanimous decision on August 20, 2012, a three-member panel of the Minnesota Court of Appeals reversed the lower court's denial of Hoff's motion for JMOL and held that Hoff could not be found liable based upon his true statements for tortious interference with Moore's employment contract or prospective business advantage. The appellate court found that to conclude otherwise would be constitutionally suspect. 
Hoff's blog post is the kind of speech that the First Amendment is designed to protect. He was publishing information about a public figure that he believed was true (and that the jury determined was not false) and that involved an issue of public concern . . . Attaching liability to this speech would infringe on Hoff's First Amendment rights.
Moore v. Hoff, No., A11-1923, 2012 WL 3553180, at *6 (Minn. Ct. App. Aug. 20, 2012).
When I first wrote about this case last September, I was concerned, like other free speech advocates, to see the lower court deny Hoff's motion to set aside this bizarre verdict as a matter of law. The ruling seemed on its face to be a flagrant violation of the well-trodden constitutional precept that a failed defamation claim cannot survive through creative pleadings as another cause of action, like tortious interference. See Hustler v. Falwell, 485 U.S. 46, 57 (1988) (applying constitutional standards for protected speech to claim for infliction of emotional distress). In fact, it is black letter law that truth is a constitutional defense to a tortious interference claim when it is based on fully protected speech. See In re Gardner, 563 F.3d 981, 992 (9th Cir. 2009)("[W]hen a claim of tortious interference with business relationships is brought as a result of constitutionally-protected speech, the claim is subject to the same First Amendment requirements that govern actions for defamation."). See also N.A.A.C.P. v. Claiborne Hardware Co., 458 U.S. 886 (1982) (First Amendment applies to claims for tortious interference with business relations).
Thankfully for free speech interests, the Minnesota Court of Appeals reached the same conclusion. The appellate court made clear that to the extent the $60,000 jury verdict against Hoff "was based on his blog statement or the conveyance of this information to the University of Minnesota," it was contrary to established law which bars tort liability for truthful information.  See Moore v. Hoff, 2012 WL 3553180, at *4 (listing cases that hold that truth is a defense to tortious interference claims arising out of an allegedly defamatory statement). See also Restatement (Second) of Torts §772 cmt. b. ("There is of course no liability for interference with a contract … on the part of one who merely gives truthful information to another.").
Moreover, contrary to an argument made by the plaintiff, the appellate court found Mr. Hoff's alleged ulterior motive to getting the plaintiff fired was irrelevant for evaluating liability.
When a person conveys unflattering and possibly damaging information to another person's employer, it is unlikely that the motivation for conveying that information is borne out of affection. It is much more likely that the intent is for the employer to take responsive action—up to and including termination—based on the content of that information. Regardless of the motivation of the messenger, if the information conveyed is true, it is not appropriate for liability attach.
Moore v. Hoff, 2012 WL 3553180, at *4.
In addition, the appellate court rejected the plaintiff's allegation that there were actions Hoff made independent of his constitutionally protected blog that amounted to interference with Moore's employment prospects. Id. The court had to determine whether there was an evidentiary basis for concluding that there were independent tortious acts perpetrated by the defendant in order to "avoid the imposition of punishing for constitutionally protected activity." Id. (quoting N.A.A.C.P. v. Claiborne Hardware Co., 458 U.S. at 933-934).
Under this legal standard, the appellate court ruled that Hoff's communication about Moore's alleged credentials with a university acquaintance were "too intertwined with Hoff's constitutionally protected blog post to accurately characterize it as independent tortious conduct." Moore v. Hoff, 2012 WL 3553180, at *7. As such, the court ruled that the holding Hoff liable for Moore's employment termination would have posed "too great a risk of infringing on Hoff's constitutional right to publish." Id.
Without going into the particular merits of Hoff's blog or his conduct, this case offers a welcomed vindication of the general principle that truth is an absolute defense to a claim for defamation and to claims for tortious interference with a contract or prospective business advantages arising out of an allegedly defamatory statement. But, it is troubling in as much as the defendant had to incur the time and expense of a jury trial and an uncertain appeal in order to receive the relief he was entitled. In that respect, it offers the cautionary tale to bloggers that reporting the truth, while important and socially valuable, may not come without a price.
Itai Maytal is an associate attorney of the New York-based firm Miller Korzenik Sommers LLP and a former First Amendment Fellow at The New York Times Company.  Any opinions he offers are in his individual capacity, and not as a representative of any institution with which he is associated.
(Photo of Minnesota Judicial Center courtesy of Flickr user Fibonacci Blue pursuant to Creative Commons CC BY 2.0 license)