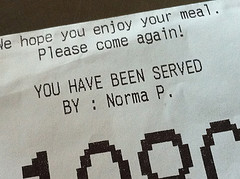 The judicial system in the United States has kept up with technological change in many ways. We have electronic filing, websites for federal courts, and Internet streaming court coverage. But there is one way that courts have not been as quick to adapt electronically – service of process.
Last month, the U.S. District Court for the Southern District of New York denied a request to allow service of process via social networking site (in this case, Facebook). The case, Fortunato v. Chase Bank U.S.A., involved Chase Bank's attempts to locate and serve process on a third-party defendant who fraudulently charged up multiple credit cards and gave a false physical address. The judge called the request "unorthodox," and found that Chase Bank had not given the court "a degree of certainty" about the defendant's alleged Facebook profile and the email address attached to that profile that would ensure that the defendant would receive and read the notice. However, the judge did allow for alternative service by general publication in local newspapers.  
So why are judges reluctant to allow electronic service of process? 
Service of process is one of the first steps in a legal proceeding; documents asserting a claim are "served" on a defendant, thereby giving him legal notice and imposing a requirement to respond. This process is a cornerstone of the American judicial system because it gives a court jurisdiction over the defendant and satisfies the due process requirements of the Fourteenth Amendment. Service of process in federal courts is governed by Rule 4 of the Rules of Civil Procedure; Fed. R. Civ. P. 4(e), which covers domestic service, states:
(e) SERVING AN INDIVIDUAL WITHIN A JUDICIAL DISTRICT OF THE UNITED STATES.  Unless federal law provides otherwise, an individual-other than a minor, an incompetent person, or a person whose waiver has been filed-may be served in a judicial district of the United States by:

following state law for serving a summons in an action brought in courts of general jurisdiction in the state where the district court is located or where service is made; or 


doing any of the following:


(A) delivering a copy of the summons and of the complaint to the individual personally;

(B) leaving a copy of each at the individual's dwelling or usual place of abode with someone of suitable age and discretion who resides there; or
(C) delivering a copy of each to an agent authorized by appointment or by law to receive service of process.
The inclusion of methods of service recognized under state law widens the range of options, but electronic service remains outside of the norm. That said, when traditional methods of service have failed, courts may permit "alternative service of process." In 1950, the Supreme Court in Mullane v. Central Hanover Trust set forth the standard for alternate service of process when "due diligence" had been exhausted to serve a defendant: "To be sure, the Constitution does not require any particular means of service of process, only that the method selected be reasonably calculated to provide notice and an opportunity to respond."
The United States has in fact allowed for electronic service of process as an alternative, but exclusively in the international context. Fed. R. Civ. P. 4(f)(3), which governs service internationally, allows for international service "by other means not prohibited by international agreement, as the court orders." A 2002 Ninth Circuit decision, Rio Properties, Inc. v. Rio International Interlink, discussed international email service's inherent pros and cons, stating that constitutional principles of notice and opportunity to respond "unshackles the federal courts from anachronistic methods of service and permits them entry into the technological renaissance." Meanwhile, in an unusual case that should be read in context of the sensitive time period, the Southern District of New York in December 2001 approved service of process via television (including the Turkish version of CNN and BBC World) on Osama Bin Laden, the Taliban, and others for deaths resulting from 9/11 attacks. Some state courts have also allowed electronic service in limited circumstances. For example, a Minnesota state court in May 2011 allowed service of process via Facebook in a divorce proceeding, when the wife could not contact her absentee husband, who was believed to have returned to Africa's Ivory Coast.
Other countries are also recognizing electronic service of process. In 2008 a judge in Australia authorized service of a default judgment to defendants via Facebook after multiple failed attempts to effectuate service, including in person and via email. Other countries soon followed suit allowing alternative service of process via email or Facebook private message, including New Zealand, Canada and most recently, the United Kingdom.
But why is electronic service of process still not used within the U.S.? Personal service of process is a touchstone in American law, but the Supreme Court, 100 years ago, acknowledged that while "the essential element of due process of law is an opportunity to be heard, and a necessary condition of such opportunity is notice ...[t]here may be, and necessarily must be, some form of constructive service." Jacob v. Roberts, 223 U.S. 261, 265 (1912).
The ABA's Science & Technology Committee took a stab at addressing legal and technical issues with electronic service in 2006 with its Best Practices for Electronic Service of Process (eSOP). Though dated now, it was an important starting point in the discussion. The document proposed requiring knowing and voluntary waivers of service (e.g., via website terms of use), document encryption for privacy and confidentiality, and maintaining principles and protections consistent with due process. The draft rules also reiterated the importance of receipted transactions as reliable proof for electronic service of process.
In the case of Fortunato v. Chase Bank, the judge reasoned that in order to serve process by electronic alternative means, a party needs to show the court that the defendant would receive constructive notice by showing that he is familiar with the manner of service and uses it regularly or to an extent that he would receive the notice. For example, it would be relevant whether the defendant used the email address or social networking site within a certain period of time. 
But taking these concerns into account, one still has to wonder if there was a reason other than custom that the judge in Fortunato v. Chase Bank, instead of allowing electronic service of process, ordered alternative service via general publication in newspapers in four cities. (Ironically, while still reiterating concern about the authenticity of the defendant's Facebook profile, the cities in which newspaper publication was ordered included the hometown identified in the profile.) In this technological age, would newspaper publiation still pass Mullane's standard of service "reasonably calculated to provide notice and an opportunity to respond"?  Is it "reasonable" to believe that a third-party credit card fraud defendant is reading her local newspaper?
Like newspaper publication of service, electronic means of service could be used as a means of last resort. Potential defendants who easily and successfully play "hide and seek" with personal service by not giving a physical address could now be "served" in a social networking community. By having an online presence, potential parties are more easily accessible.
The limitations of electronic service of process are many. There are potential issues with return receipts, limited storage capabilities, and (un)reliability of email. Pro se litigants and other parties might not have access to computers. Urgency is also a component that could be lost when serving process electronically; there is something fundamentally different about receiving a physical summons, and receiving an email or Facebook message. Although Facebook's Terms of Use require accurate and true profiles, Facebook also notes that they do not pre-screen the profiles, and many "fake" profiles abound. The ultimate hurdle remains establishing that notice will "reasonably" get to the defendant, as required by the Constitution.
On the other hand, electronic service of process is fast and inexpensive; electronic messages are sent and received within moments. A majority of Americans use email, and certain services allow receipt of email to be confirmed by the sender. Some argue that there are just as many trustworthiness problems with mail and personal service, such as human error and mail "getting lost." And electronic service of process is allowed in an international context, so why not domestically?
Service of process on elusive international and domestic defendants by email, online newspapers, or social networking sites could become the modern day "general publication by newspaper." At the very least, electronic service should be an option when all other attempts have failed.
Tabitha Messick is an intern at the Digital Media Law Project and a rising 3L at the University of North Carolina School of Law. 
(Photo courtesy of Flickr user jannalauren pursuant to Creative Commons CC BY-NC-ND 2.0 license)