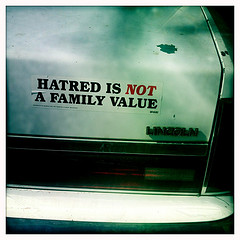 The issue of same-sex unions is hotly debated, and the discussion is heating up this election year with the case on California's Proposition 8 making its way to the Supreme Court, and with President Obama recently declaring that he is in favor of same-sex marriage.
Two GOP candidates for the Colorado State District 8 Senate seat did not have the same opinion on same-sex unions. Incumbent Sen. Jean White had supported the 2011 Colorado bill on civil unions, S.B. 172. She has a niece and a nephew who are gay, and she spoke emotionally during the debate, concluding: "My vote today is for love and respect and commitment. My vote today is for my niece and my nephew."
Senator White's opponent, Rep. Randy Baumgardner, does not support civil unions. He was therefore the candidate of choice of Public Advocate of the United States (Public Advocate), a nonprofit organization based in Falls Church, Virginia.
Public Advocate's website indicates that it is in favor of "[a] federal traditional marriage (man-woman) amendment to the Constitution to defend tradional [sic] marriage from assaults from those who claim to promote 'same sex marriage'." It also "offers strong and vocal opposition to … [s]ame sex marriage and the furtherance of so-called 'Gay Rights.'" This anti-gay stance has earned Public Advocate a spot on the Southern Poverty Law Center hate map.
Unauthorized Use of a Copyrighted Photograph in Two Political Mailers
The Denver Post reported in late June that Public Advocate printed two political mailers using the same photograph of two men facing each other, holding hands and kissing, as foreground. One of the mailers has a background of snowy trees. Written across the image is this question: "State Senator Jean White's idea of  'family values?'" The other mailer uses the same image, but with a different background, and the question across the page asks "Jeffrey Hare's vision for Weld County?" (Mr. Hare was a State House candidate for Colorado House District 48. He clearly states on his web site that he is against civil unions. The second mailer might refer to Mr. Hare's refusal to answer a survey on civil unions sent to him by Colorado for Family Values, but it is not clear.)
The original photograph used in both mailers was taken by Kristina Hill in 2010. Ms. Hill took the picture (which originally contained the downtown New York skyline as background) to celebrate the engagement of Brian Edwards and Tom Privitere, who have since been married. Hill's photograph had been posted on Mr. Privitere's blog, and was used by Public Advocate without permission.
Is the Use of the Wedding Picture Fair Use? 
Hill owns the copyright in the photograph. Under § 106 of the Copyright Act, she has the exclusive right to reproduce it, distribute it, and display copies of it publicly. Therefore, the use of the photograph by Public Advocate without her permission would appear to constitute copyright infringement.
However, when asked about the use of the wedding picture, the president of Public Advocate, Eugene Delgaudio, wrote in an email to The Denver Post that "other groups make fair use of [Public Advocate] materials, … and we acknowledge a limited use of many of our materials, by other groups, under parody…" Mr. Delgaudio seems to suggest that the unauthorized use of Ms. Hill's work was a parody protected as fair use. Does this argument have some meat on its bone?
Parody Criticizes the Original Work
The Second Circuit defined parody as "when one artist, for comic effect or social commentary, closely imitates the style of another artist and in so doing creates a new art work that makes ridiculous the style and expression of the original. Rogers v. Koons, 960 F.2d 301, 309 (2d Cir. 1992). For the Supreme Court, "the heart of any parodist's claim to quote from existing material… is the use of some elements of a prior author's composition to create a new one that, at least in part, comments on that author's works," Campbell v. Acuff-Rose Music, Inc., 510 U.S. 569, 580 (1994).
It does not seem that the mailers commented on Hill's work. However, it might not be necessary to comment heavily on the original work in order for the use to constitute a parody, if the original work is used as a vehicle to comment on another issue, and if the use at least lightly comments on the original work.
For example, Ralph Nader channeled the MasterCard "priceless" ad campaign for his 2000 presidential bid when he ran a series of televised advertisements showing a "grilled tenderloin for fund-raiser; $1,000" and "promises to special interest groups: over $100 billion," ending with the comment "finding out the truth: priceless. There are some things that money can't buy." The main purpose of these ads was to criticize the way political campaigns are conducted, not to criticize MasterCard.
The issue of whether Mr. Nader's ads were parodies was raised in front of the Southern District of New York in MasterCard Int'l Inc. v. Nader 2000 Primary Committee Inc., No. 00 Civ. 6068 (GBD) (S.D.N.Y. March 8, 2004). Noting that the Supreme Court in Campbell stated (at 510 U.S. 580) that the relevant inquiry in a parody case is "whether a parodic character may reasonably be perceived," the court found that it may be "reasonably perceived" because Nader also commented on MasterCard's "materialistic message," and thus held that Nader's work was "sufficiently a parody for the purposes of a fair use analysis...."  
Even if a reviewing court were to follow this analysis in the case of Public Advocate's use of Hill's photograph, the main purpose of the political mailers was to criticize the candidates' views, or supposed views, on same-sex unions, rather than to criticize Hill's work. Public Advocate would need to establish that it was commenting on some message contained in the original work, and it is difficult to see what this might be.
So far, we have only talked about the copyright issue, which is held by Hill, the photographer who took the original photo. What about the rights of Mr. Edwards and of Mr. Privitere? 
Right of Publicity
The right of publicity protects individuals against unauthorized use of their image or likeness for commercial or other exploitative purposes. There is no federal law on point; each state has its own right of publicity law. New Jersey, where Privitere and Edwards are living, does recognize a common law right of publicity. 
In Raymen v. United Senior Association, a case quite similar to the one that interests us, a picture of two men waiting to get married at City Hall in Portland, Oregon, was posted on a newspaper's web site, and later used without permission in an advertising campaign for a nonprofit organization, USA Next, which aimed to represent the AARP as a pro-homosexual organization. The couple sued USA Next, alleging libel, intentional infliction of extreme emotional distress, invasion of privacy, and invasion of privacy by appropriation of their likeness.
The U.S. District Court for the District of Columbia found that the plaintiffs had demonstrated sufficient likelihood of merit on their claims to grant a temporary restraining order against further use of their image. With respect to their right of publicity claim, the court reasoned that, while the unauthorized use of the photograph was not done specifically in order to seek financial contributions, which certainly would be a commercial use, "it [was] not unreasonable to infer such an incendiary advertisement would assist USA Next in their efforts to raise monetary contributions from people who oppose gay rights." Therefore, the use of the image was considered to be commercial.
Public Advocate is seeking monetary contributions from its web site, from $10 to $1,000, and its virulent stance against homosexuals, including producing the Colorado mailers, may very well be regarded as assisting it in its efforts to convince like-minded individuals to donate money. Therefore, the right of publicity claim of Edwards and Privitere could be considered by a court as having a substantial likelihood of success. 
On July 11, 2012, the Southern Poverty Law Center sent Delgaudio a letter asking him to cease and desist further use of Privitere and Edwards's images, and Hill's copyrighted photographs. We may see further developments in this case in the near future.  Let's hope that what will happen will help to bring some closure for Edwards and Privitere.
Marie-Andrée Weiss is a solo attorney admitted in New York, and her admission is pending in France. Her practice focuses on intellectual property, privacy, and social media law. She frequently writes on these topics and on European Union law.  
(Image courtesy of Flickr user Lynn Friedman, licensed under a Creative Commons CC BY-NC-ND 2.0 license)