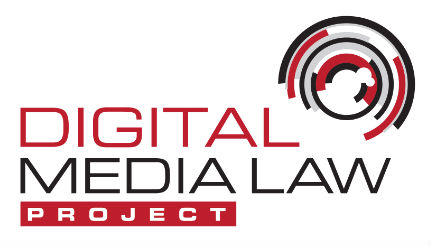 Many of you who have followed the adventures of the Citizen Media Law Project know that we have been contemplating a change of our project's name for quite some time (the eagle-eyed will have seen our new name and logo appearing in stealth fashion here and there on our site and elsewhere). The change from "Citizen" to "Digital" is a profound one for us, reflecting an ongoing discussion within our project (now and hereafter the "DMLP") about the nature of the online journalism and publishing ecosystem and our role in supporting those involved in it.
When our project started in 2007, the disruptive effects of the Internet on the journalism industry were in full swing, while at the same time individuals were realizing the potential of blogs, social media, and other open online platforms to change how we share information of public importance. The ability of individuals to participate directly in meeting the information needs of their communities marked a critical shift in how we communicate on public issues. However, many of those exploring the possibilities of citizen journalism did so with little understanding of the legal risks that they might face, risks that traditional journalism organizations had long understood and for which they had developed extensive risk management strategies.
The "Citizen Media Law Project" was intended to close that information gap, by providing freely available legal information about key issues affecting online speech in a form that could be understood without a law degree. We were also deeply concerned about tracking situations in which citizen journalists were actually threatened with legal action, leading us to create our threats database to monitor the legal challenges being faced by online publishers. These resources have been well received, and we continue to support them now.
However, in the last six years, digital journalism has continued to evolve at an exciting and even dizzying pace. Citizen journalists continue to do excellent work, but professional journalists who believe in the potential of online speech have launched numerous independent ventures as well. Freed from the constraints of traditional media, news projects experiment with sharing news in a wide variety of forms, from a constant torrent of short bursts of information to extended, in-depth investigative pieces - or even a seven-year journal of a walk around the world. Data journalism is realizing the incredible potential of mining vast storehouses of digital information for a clearer view of the world. The channels by which we receive all of this information are in constant development as well, as technology provides new and easier ways of creating, sharing, receiving, and even understanding content.
Of course, the legal challenges of this environment are in flux as well, making it essential that a project such as ours be flexible enough to respond to these challenges. So, while we can predict many fundamental legal issues and provide primers and legal guides, we remain on constant alert for new issues that could affect online journalism as a whole and develop tailored responses to those issues as they arise. When a journalist faces a specific issue and needs direct assistance, we can provide pro bono and reduced fee referrals through the Online Media Legal Network, our network of hundreds of attorneys, law firms, and legal clinics. Our project is no longer limited to addressing the narrow challenges faced by new and inexperienced entrants into the journalism market, but innovating to provide a comprehensive and mutually supporting set of resources to assist digital journalism as a whole.
For these reasons, we are now the "Digital Media Law Project." We are looking forward to all of the challenges that this transition entails, and welcome your participation in this new phase of our existence.
Jeff Hermes is the Director of the Digital Media Law Project.