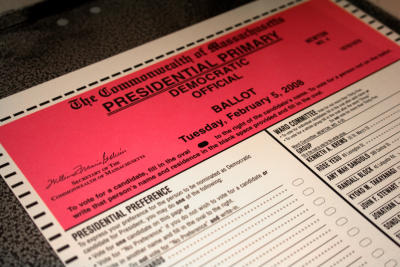 Massachusetts has no statutory provision that specifically prohibits the use of photographic or video equipment inside a polling place while you are voting.  There is, however, a Massachusetts statute that makes it a crime to "hinder[], delay[] or interfere[] with . . . a voter while on his way to [an] election, while within the guard rail, while marking his ballot or while voting or attempting to vote." Mass Gen. Laws ch. 56, § 29.  If your photographing or videotaping obstructs the voting process or interferes with other voters, you could run into problems with this provision. 
But, if your activity is not disruptive, it appears to be legal (from the perspective of state law) for you to take photographs or record video inside a Massachusetts polling place. Local officials, however, may have the authority to prohibit or discourage photography and videography inside polling places.  For instance, the Town Clerk of Stoneham, Massachusetts told us that he intends to post signs discouraging the use of cameras inside the polls.
Local control over this issue may explain why many Massachusetts voters were permitted to take photographs inside polling places during the 2008 primaries, while others were not.  Forty-eight photos taken inside of Massachusetts polling places currently are posted on the New York Times Polling Place Project (for example, this one, this one, and this one). On the other hand, one poster to the New York Times project reported that she was not allowed to use a camera in her polling place in Cambridge.  Different towns, and even different polling locations within those towns, could have different policies.   You should consult with local election officials at your town clerk's office to learn what they will allow in terms of photography and videography inside the polls.
Beyond that, Mass Gen. Laws ch. 56, § 25 potentially affects your ability to photograph or video your own marked ballot and upload the image to the Internet. In relevant part, the statutes says:
Whoever, at a primary, caucus or election, . . . allows the marking of his ballot to be seen by any person for any purpose not authorized by law . . .  shall be punished by imprisonment for not more than six months or by a fine of not more than one hundred dollars.

Because of the limiting clause -- "at a primary, caucus or election" -- the statute may not apply to recording an image of one's marked ballot and later publicly displaying it on the Internet.  We are not sure how election authorities will interpret this statute.  In any event, it seems relatively clear that posting an image of your own unmarked ballot is probably lawful (putting aside local rules/policies against any photography whatsoever).  Again, the New York Times Polling Place Project is instructive.  We found several photos of unmarked ballots submitted by Massachusetts voters (for example, this one, this one, this one, and this one).
Finally, Massachusetts law does not specifically restrict your ability to take photographs or shoot video outside of polling places. Nevertheless, you should make sure not to film anyone surreptitiously because Massachusetts has a strict wiretapping statute that authorities have interpreted as covering secret video recordings that capture sound, even those made in public locations. Getting express permission from anyone you want to interview or film is a good way of avoiding any problem.
This post is part of our series looking at state election laws that regulate activities at polling places on Election Day.  We cover these laws from a general standpoint in the Documenting Your Vote section of our legal guide. If you've got input on election laws in Massachusetts or other states, please leave a comment or contact us directly. 
(Photo courtesy of Gabriel Schaffzin on the New York Times Polling Place Photo Project.  Licensed under a CC Attribution-No Derivatives license.)