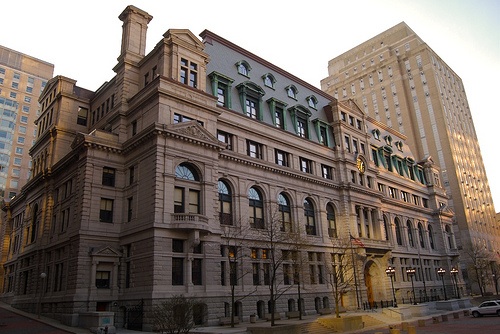 A ruling by the highest court in Massachusetts could impact the methods that activists use to advocate their causes, by setting a boundary between activism that is protected by the state's anti-SLAPP statute and factual reporting, which is not.
Earlier this week, the Massachusetts Supreme Judicial Court (SJC) ruled in Fustolo v. Hollander, SJC-10485 (Mass. Feb. 1, 2010), that the writer of newspaper articles on a local development controversy could not use the state's anti-SLAPP statute to get defamation claims by a developer dismissed, even though the writer was also involved in the story as the co-founder of a community group that opposed the development. 
The writer's involvement in the community group did not make her articles an exercise of her "right to petition" on the development issue, the high court said, because the articles were objective journalistic accounts that did not advocate a particular position or disclose the writer's involvement. 
From Participant to Observer 
Fredda Hollander became involved in community issues in Boston's North End neighborhood in the 1990s, and in 1996 co-founded the North End Waterfront Residents' Association (NEWRA).  She soon began submitting articles to the Regional Review community newspaper, as a means of advocating the organization's positions. In 1997, the newspaper began paying Hollander for her stories, after instructing her to cover neighborhood meetings, including NEWRA meetings, objectively and factually. Hollander remained a member of NEWRA, but did not disclose this in her Regional Review articles, or write her articles as expressions of her personal opinion or the opinion of NEWRA, according to the court.
In May and June 2006, the Regional Review published five articles written by Hollander on the proposed development of three North End properties by Steven C. Fustolo. Two of these articles reported on NEWRA meetings: one to discuss the issue; and a second meeting at which NEWRA voted to oppose redevelopment of one of the properties. A third article covered the meeting of another community group, North End/Waterfront Neighborhood Council (NEWNC), which voted in favor of the project opposed by NEWRA.
Fustolo sued Hollander for defamation over the five articles, and Hollander sought to dismiss the case under the Massachusetts anti-SLAPP statute, Mass.Gen. Laws ch. 231, § 59H. Anti-SLAPP statutes, which have been adopted by several states, are meant to provide a way to quickly dismiss lawsuits deemed to be "strategic lawsuits against public participation" (SLAPP): lawsuits filed in retaliation for petitioning the government or speaking out on a public issue or controversy.
In Ms. Hollander's case, the Massachusetts trial court judge denied her anti-SLAPP motion, concluding "that Hollander did not engage in petitioning activities 'on her own behalf as a citizen' because she wrote the articles in her capacity as a reporter, and also because she received compensation for doing so." 
Journalist or Activist? 
Hollander appealed to the SJC (docket).
The Citizen Media Law Project (CMLP) joined the American Civil Liberties Union of Massachusetts and the Lawyers' Committee for Civil Rights Under Law of the Boston Bar Association in submitting an amicus curiae brief—co-authored by Harvard Law School's Cyberlaw Clinic, representing CMLP—urging the SJC to hold that "factual reporting by community newspapers and their employees qualifies as petitioning activity under the anti-SLAPP statute." (More on the brief.)
[T]he simple fact of gainful employment by a newspaper, another media outlet or an advocacy organization is insufficient by itself to deprive an individual of the protections of the anti- SLAPP law.
. . . Newspapers, through their reporters, engage in news reporting to influence, inform, and bring about governmental consideration of issues and to foster public participation in order to effect such consideration. This type of petitioning activity is exactly what the legislature sought to protect by enacting the anti-SLAPP law. Because newspapers, by necessity, petition through the reporting of their staff, a categorical exclusion of reporters from the scope of the anti-SLAPP law would chill expression far more effectively than any SLAPP suit could.

Amicus Brief, at 6-7.
In other states, like California, journalists take advantage of anti-SLAPP statutes to get defamation suits dismissed without much hullabaloo (here's a recent example). But the California anti-SLAPP statute, for instance, protects against lawsuits brought to chill the valid exercise of "freedom of speech" as well as the "right to petition" the government, whereas the Massachusetts statute omits the general term "freedom of speech."
Only one Massachusetts court, a trial court in Plymouth County, had applied the anti-SLAPP statute to a journalist before Hollander asked the SJC to do so.  See Joyce v. Slager, No. 08-01240 (Mass. Super. April 6, 2009) (Rufo, J.), and at oral argument the Justices seemed markedly reluctant to open the statute's protections to journalists at large.
Ultimately, the SJC rejected the argument—advanced by both Hollander and amici—that factual reporting in a newspaper can qualify as petitioning activity when its purpose or practical effect is to spur public participation around an issue or controversy. 
The court also rejected the narrower argument that Hollander was functioning as an activist when she wrote the articles in question and upheld the lower court's ruling.  The court acknowledged that Ms. Hollander had "a personal interest in the development issues that she wrote about," and that she "sought to bring issues that she considered important to the attention of residents, politicians, and government officials," but ultimately concluded that her subjective and sincere personal interest was not legally relevant. What the SJC cared about was that "Hollander's articles did not contain statements seeking to redress a grievance or to petition for relief of her own." On this point, the court gave weight to an affidavit submitted by Ms. Hollander:
Indeed, she expressly stated in her affidavit that in writing all her articles, she was "always careful to present an objective description of the subject matter, including the positions of both sides where applicable," and that while she had personal views on the issues she covered, "they were not reflected in the articles I wrote."
Slip op., ¶ 12.
The SJC took pains to emphasize that the denial of anti-SLAPP protection would not deprive journalists of the constitutional protections they (and others) enjoy against defamation liability:
To the extent that Hollander fears a chilling effect on reporters and the press if they are not entitled to claim the protection of the anti-SLAPP statute in cases where they write about contentious issues of public concern, we note that the common law of defamation, with its constitutional overlay, see, e.g., New York Times Co. v. Sullivan, 376 U.S. 254 (1964), provides reporters with protection for both opinions and, of probable greater relevance to this case, for fair reports of public meetings of both government bodies and organizations such as NEWRA. . . . While "the Legislature intended to enact very broad protection for petitioning activities," "the scope of the statute has its limits." There is no reason to stretch the anti-SLAPP statute beyond its appropriate boundaries in order to create a level of protection for reporters beyond that to which they are currently entitled under the existing defamation law. 
 Slip op., ¶ 19 (citations omitted).
Impact on Community Media
Despite the SJC's assurances, this ruling could make activists who use journalistic methods to further their causes more vulnerable to defamation and other lawsuits in Massachusetts.  Regardless of constitutional protections, the decision potentially deprives them of a powerful weapon against frivolous lawsuits—most importantly, the anti-SLAPP statute awards a prevailing defendant costs and attorney's fees.
And, perversely, the SJC's decision creates an incentive for those on the margins between journalism and advocacy to eschew any effort to be objective or balanced in their work.  Several of the most popular blogs are driven by an express or implied political ideology. At least when it comes to potential liability in the Massachusetts court system, they may be better off leaving behind any semblance of objectivity or good journalism and sticking to politics. 
Photo "John Adams Courthouse (warm)" courtesy of Flickr user mcritz, licensed under a CC Attribution-Noncommercial-Share Alike 2.0 Generic license — http://www.flickr.com/photos/mcritz/ / CC BY-NC-SA 2.0