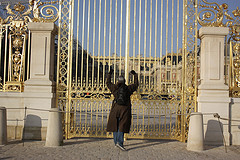 Dan Kennedy has reported on an interesting anonymous speech issue brewing (or perhaps already boiled over) in the town of Cohasset, Massachusetts. It seems that the board of selectpeople of Cohasset has been concerned recently about ad hominem attacks on their members, delivered through the medium of the comment sections of the websites of the Quincy Patriot Ledger and the Cohasset Mariner. The board has debated issuing a subpoena through the Town Counsel to identify the commenters, allegedly to determine whether the comments were being posted from computers owned by the own in violation of Cohasset's computer usage policy.
One can debate whether this stated motivation is a pretext for an attempt to pursue the commenters based on the content of what they wrote; according to the Patriot Ledger, Acting Cohasset Town Manager Michael Milanoski has stated that "there is no indication that any employee was using any town employee computer to blog at all." However, the issue is potentially now moot, because GateHouse Media, owner of the Ledger and Mariner, has complied with subpoenas (see sidebar in linked story) issued in a separate libel suit filed in Quincy District Court by a former selectperson for the e-mail and IP addresses of at least some of these commenters. One imagines that the plaintiff in this suit would be willing to share the results of her subpoenas with the current board.
To be sure, GateHouse was within its rights to respond to the subpoenas. The company is bound by nothing other than its own privacy policy in preserving the anonymity of its users; that policy clearly states: "We may disclose information you have provided to us if we have a good faith belief that such disclosure is necessary to ... comply with the law, government action or with legal process served on us[.]" There is no obligation on the part of GateHouse to challenge subpoenas for information about its users, and according to the Quincy District Court Civil Clerk's Office, as of May 7, 2013, there were no documents in the court file (docket no. 13-CV-646) indicating that any attempt to quash a subpoena had been filed. We cannot tell if GateHouse nevertheless made an attempt to inform its users about the subpoenas, and the users simply failed to object. Massachusetts does not have a statute such as Virginia does, which requires an ISP that receives a subpoena for a user's identity to notify the user in a timely manner.
Nevertheless, this situation raises serious concerns. The First Amendment protects the right to speak anonymously, and that right should prevent courts from casually compelling the unmasking of anonymous or pseudonymous speakers in online forums. That right would be even more directly implicated if a government body such as a board of selectmen attempted to force disclosure of information that would lead to revelation of the users' identity, on a basis that could easily be a pretext for content-based concerns (and one must wonder why this concern over misuse of town computers did not result in subpoenas in connection with previous comments).
But even a subpoena issued by an attorney under a court's authority in a defamation case raises these issues. When an objection to such a subpoena is raised, courts have held that defamation plaintiffs should be required to make at least a prima facie showing that their claims have merit before compliance with the subpoena is compelled.  However, an online commenter's opportunity to object is usually dependent on the willingness of a third-party service to provide minimal protections for its users. Without notice and an opportunity to object to a subpoena before a service provider turns over information, protection for anonymous speech online is meaningless. It might of course be the case that the former selectperson bringing the libel suit has meritorious claims, such that any objections by the anonymous users would have been overruled, but it does not appear that such objections were ever raised.
As Andy Sellars has written previously for the DMLP blog, the willingness of intermediaries to stand up for the rights of their users is the lynchpin and weakest link in freedom of speech online. If GateHouse did notify its users about the subpoenas, the users would at least have been afforded a chance to assert their rights. Nevertheless, GateHouse's privacy policy does not guarantee that it will provide notice of a subpoena, leaving its users' First Amendment rights a matter of the company's discretion.
It is not surprising that GateHouse does not promise stronger protection for its anonymous commenters: news organizations have had a tortured history with anonymous comments on their websites, even though some companies feel they are a necessary evil. Seven years ago, I wrote about legal challenges posed by allowing anonymous comments on news websites, notwithstanding strong federal protection against direct liability for those comments. Dan Kennedy notes the negative effect that allowing anonymous comments can have on the reputation of a news site, and suggests that it might be a best practice to allow only anonymous comments that have been through a moderation queue. In that manner, a forum could be provided for those who would otherwise be afraid to speak about crime and corruption for fear of retaliation, while still allowing the site to manage its tone and appearance. (I personally am less certain about encouraging more filtering of online speech, but recognize that news sites that primarily display their own content stand in a different position vis-a-vis moderation than social media networks that exist primarily to carry user content.)
But if a news organization decides to provide a forum for anonymous speech, then it should accept the consequences of that decision and be prepared to provide at least minimal procedural protections to its users. Allowing users to post anonymously in the face of a privacy policy that is silent on such protection invites readers to put themselves in jeopardy when the illusory shield of a pseudonym is pierced. This is consistent with neither good business practices nor civic responsibility over a forum for public discourse.
Jeff Hermes is the Director of the Digital Media Law Project.
(Photo courtesy Flickr user Great Beyond pursuant to a Creative Commons CC BY-NC-SA 2.0 license.)