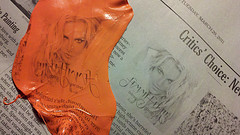 Here is a story that would be an excellent fact pattern for a media law exam. Copyright! DMCA! Libel! Oh my…. Well, at least I hope it will be a topic of interest for the readers of this blog.
Background
Consider the following fact pattern, drawn from a series of blog posts by the parties to this dispute. (Each party has since made an effort to delete their respective posts, so this analysis will not refer to the parties by name.)
Photographer took a picture of downtown Houston, and then posted the photograph on his blog. He later discovered that several sites had used the photograph without his permission, and he proceeded to send them all DMCA takedown notices. Some of the sites took down the pictures, and others asked to be granted a license. Fourteen of the sites which received a DMCA notice from Photographer were owned by the same person, Blogger. These fourteen sites were all hosted by GoDaddy, whose policy is, upon receipt of a complaint, to remove or disable access to sites which are allegedly infringing copyright. Accordingly, access to all of Blogger's sites was disabled.
One of Blogger's disabled sites was a blog she uses as a platform to express her support for a local candidate in a race for Sheriff. Another of these sites was a site designed to inform the public about a non-profit organization whose goal is to promote awareness for the education needs of special needs children (Nonprofit Organization). Blogger is Nonprofit Organization's President. read more »
Bookmark/Search this post with: