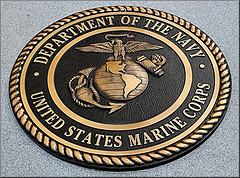 What happens when the First Amendment collides with military decorum and respect for chain of command?  
It looks like we'll get to find out as the matter of Sgt. Gary Stein, the Marine who on a Tea Party Facebook page slammed President Obama and threatened to disobey his orders, rolls ahead. 
Stein got drummed out of the Corps with an other-than-honorable discharge late last month, and his lawyer promised to pursue all his options in administrative proceedings and federal court.  But does Stein really have a case?
Well, he's already in trouble when it comes to one of the preeminent government-employer/free-speech cases, Pickering v. Board of Education.  In Pickering, a teacher was fired by his public school employer after he wrote a letter to the local newspaper complaining about the school board regarding a particular matter of public importance. The Supreme Court ruled the firing a violation of the teacher's First Amendment rights, saying that the teacher's speech rights outweighed the school's interests as an employer, given that the teacher's complaint had little to do with the fact of the teacher's employment.  read more »
Bookmark/Search this post with: